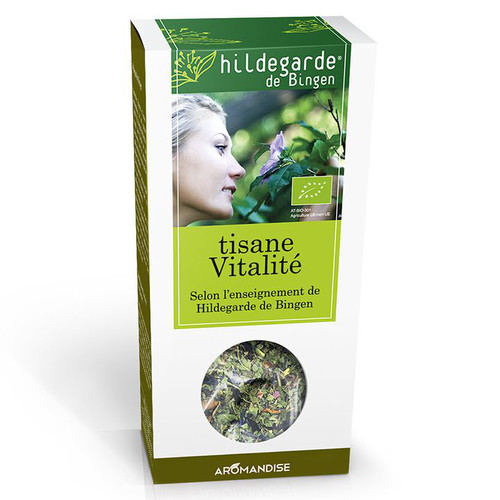 Aromandise
1
Vitality herbal tea - organic
---
Fabriquant: Aromandise
Contenu: 70.0
G
Référence: AH020
---
Win 51 beez by buying this product
Aromandise's Vitality herbal tea, "Tisane Vitalité", is a delightfulmix of fruits, flowers and tasty plants with a rich, warm and spicy aromatic palette to boost one's energy!
An interesting association of plants for a beneficent and vitalizing effect.
This tea is freely inspired by the teaching of the abbess Hildegarde von Bingen recognised for her knowledge of medicinal plants.
Vitality tea can be enjoyed hot, iced or hit.
User Reviews
"Well perfumed", "Meets my expectations", "Very good, meets my expectations, I recommend!"
INCI
Ingredients
rosehip*, hibiscus* (23%), lemon verbena*, licorice* (10%), cornflower petals*, quince*, sunflower petals* (3%), rosebuds*, beetroot* * from certified organic agriculture
Characteristics
1 teaspoonful equals 1.4g mix or 0,32g hibiscus. 0,14g ginger, 0,14g licorice, 0,04g sunflower
Rosehip supports the body's natural defenses and fights lassitude and asthenia. Hibiscus, with its sweet flavors, helps to resist physical and mental fatigue and strengthen the vitality of the body. Verbena and sunflower petals with digestive and soothing properties help the body resist stress. Licorice and cornflower contribute to digestive well-being, rosebuds help combat insomnia, stress, mental and physical fatigue, depressive moods, and beet brings colour, sweetness and healthy phytonutrimens.
Recommendations for use
Recommended dosage: 1 teaspoonful daily (as infusion). For maximum benefits take in cures of 3 weeks to 1 month. Does not replace a varied, balanced diet and a healthy lifestyle.
Precautions for use
Contains licorice, so excessive consumption should be avoided for people with hypertension.
This is a preview of the recently viewed products by the user.
Once the user has seen at least one product this snippet will be visible.
Recently viewed Products