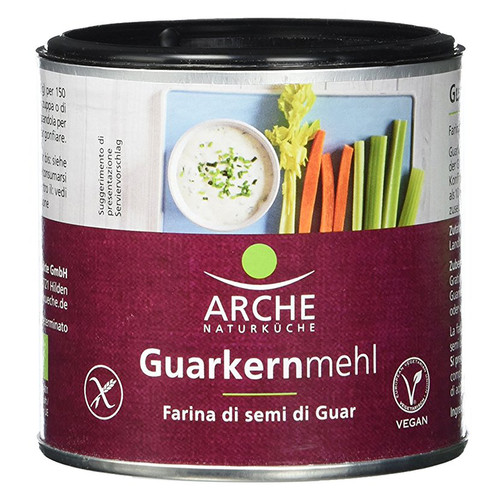 Arche
1
Guarseed meal - organic
---
Fabriquant: Arche
Contenu: 125.0
G
Référence: AC002
---
Win 40 beez by buying this product
Guarseed meal or guar gum, guarana, is a vegetable binding and thickening agent (of the grains of the guar plant), with high proteic level which works as well hot as cold. It is ideal for desserts and cold dishes as well as for hot dishes such as soups, sauces, soufflés without eggs and vegetable preparations.
Guarseed meal also has medicinal properties. Eaten thickened with a teaspoon it quickly gives a feeling of satiety useful in case of overweight. It is a dietary supplement that also relieves the metabolism and liver function by binding cholesterol and bile acid in the small intestine. Its anti-cholesterol effect and its action countering the risk of colon cancer have been proven. It is also useful for people with diabetes mellitus, or with transit troubles or haemorrhoids. The gel it forms with liquids is thoroughly mixed with the alimentary bolus which on the one hand reduces the absorption of sugars and fats (helping to minimize insulin peaks after food intake) and, on the other hand, has a ballast and hydrating effect on the food bolus which helps make transit easier and regular.
Guar seed meal is the endosperm from the seeds of guar (Cyamopsis tetragonolobus, Fabaceae), an annual leguminous plant related to peas and beans, cultivated in Texas and Central America and largely in Pakistan and India.
Ingredients
Guarseed meal* * from certified organic agriculture
Characteristics
Nutrional values per 100g
energy: 728kJ / 180kcal
fat: 0.7g of which saturates: 0.3g
carbohydrates: less than 0,1g of which sugars: less than 0,1g
protein: 6g
salt: 0,5g
Precautions for use
High doses can cause flatulence and abdominal cramps.
This is a preview of the recently viewed products by the user.
Once the user has seen at least one product this snippet will be visible.
Recently viewed Products