Matcha Premium Powder
- Naturally detoxifies
- Stimulates the metabolism
- Protects the immune system
- Increases energy
---
---
Internal Reference: PU038
Products Content: 75.0
Products Content Unit: G
Barcode: 5400706205573

What is Matcha Premium Powder?
Matcha is a green tea, native to Japan. When harvesting green tea, only the best tea leaves are selected. Premium matcha is very fine, smooth and silky. A poor quality matcha is a bit rough and grainy between your fingers.

Matcha is a shade tea. 2 weeks before harvest, the tea bushes are placed in the shade with mats or sails. The bushes react to this by producing extra chlorophyll. Chlorophyll, among other things, gives the green color. Matcha has a sweet and salty taste.

Japanese green tea powder is 100 times richer in antioxidants than regular green tea and 1 cup of matcha = 10 cups of green tea. In addition to antioxidants, matcha is also rich in vitamins (A, B, C, D), fiber, chlorophyll (leaf green) and minerals such as magnesium, chromium, calcium and zinc. It detoxifies naturally and effectively and stimulates the metabolism. Matcha helps you feel awake and full of energy.
Pesticide free - Gluten free - Lactose free - Soy free

Matcha is a source of natural antioxidants, resulting in an ORAC value of 2400 H-ORAC units.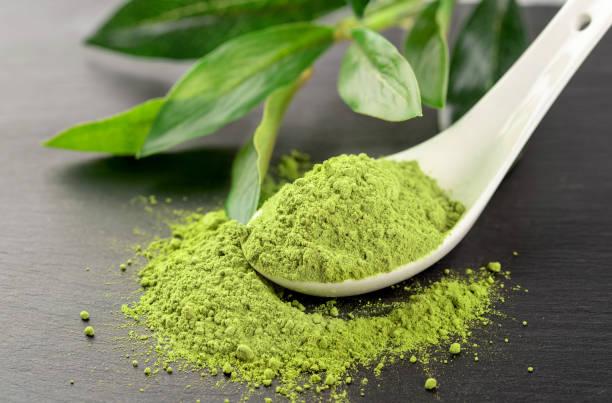 How to use Matcha Premium powder?
Use 5 grams of Purasana Matcha powder per tea.
This green powder is not only suitable for use in tea, smoothies and juices. Matcha can also be used for example in muffins, pancakes or cakes.
Do not drink during pregnancy.
What is matcha premium powder made of?
Ingredients:
Matcha from Japan 100% organic
Caffeine 2,65 g
Nutritional values 100g
Energy 1397kJ / 334 kcal
Fat 3,3 g
Of which saturated fatty acids 0,8 g
Carbohydrates36,8 g
Sugars 3,1 g
Fibre33.7 g
Protein 22.1 g
Salt 0,0 g


Faq
Quels sont les modes de livraison disponibles ?
Le mode d'expédition standard est le Colissimo suivi, remis sans signature. Si vous souhaitez une remise avec signature, un coût supplémentaire s'applique, merci de nous contacter. Quel que soit le mode d'expédition choisi, nous vous fournirons dès que possible un lien qui vous permettra de suivre en ligne la livraison de votre colis.
Comment je peux suivre ma commande ?
Quel que soit le mode d'expédition choisi, nous vous fournirons dès que possible un lien qui vous permettra de suivre en ligne la livraison de votre colis.
Comment puis-je régler ma commande ?
Vous disposez de plusieurs moyens de paiement offrant un maximum de garanties de sécurité.
Vous pouvez régler :
Par carte bancaire en ligne
(paiement sécurisé SSL ; cartes portant le sigle Carte Bleue, Visa, Eurocard-Mastercard). Vous serez appelé à saisir le numéro de votre carte, ainsi que sa date de validité, directement dans la zone prévue à cet effet (saisie sécurisée par cryptage). Le débit de la carte est effectué au moment de la commande.
Par prélèvement automatique Abonnement, tous les frais bancaires restant à la charge du demandeur.
Par chèque en euros, Le paiement par chèque n'est pas accepté car les frais d'encaissement sont prohibitifs. La banque prélève entre 13 € et 15 € de frais. Tout chèque reçu est automatiquement détruit. Préférez le paiement par carte de crédit VISA ou Mastercard, ou le virement bancaire qui ne génère aucun frais. Le paiement par carte est immédiat et votre commande est envoyée endéans les 24 heures (si tous les produits sont de stock). Le virement bancaire ajoute en général un délai de 2 à 3 jours pour le transfert de banque à banque.
Puis-je effectuer ma commande par téléphone ?
Oui, notre service commercial est disponible du lundi au vendredi entre 8h15 et 17h15. Nos équipes vous accompagnent dans la commande de vos compléments alimentaires naturels.
France : +33 (0) 1 76 38 20 18
Belgique : +32 (0) 10 23 33 50
Dois-je m'inscrire pour commander ?
Il n'est pas nécessaire de créer un compte pour effectuer une commande sur notre site.
Néanmoins, vous inscrire vous permet de consulter l'historique de vos commandes. Cela vous permet également de gagner du temps pour vos prochaines commandes (sauvegarde de vos coordonnées et/ou de votre moyen de paiement).
Avec le programme fidélité, vous pouvez également accumuler des beez. Consultez cette page ici si cela vous intéresse.
Où trouver ma facture ?
Dès que votre commande sera validée, vous recevrez un email de confirmation contenant votre facture en pièce-jointe. Votre facture est également disponible dans votre compte dans la rubrique "Facture".
Le(s) produit(s) que j'ai commandé ne me conviennent pas ?
Le client dispose d'un délai de 14 jours ouvrables pour retourner, à ses frais, les produits ne convenant pas. Ce délai court à compter du jour de la livraison de la commande au client. Si ce délai expire un samedi, un dimanche ou un jour férié ou chômé, il est prorogé jusqu'au premier jour ouvrable suivant.
Le produit devra être retourné à Santi-shop dans son emballage d'origine et le produit ne devra pas avoir été descellé ou entamé, afin que le client puisse bénéficier du droit de rétractation.
Le Produit doit être retourné à :
Santi-shop, 11 rue Paul Rischard 21, 5324 Contern, Luxembourg.
Ce droit de rétractation s'exerce sans pénalité, à l'exception des frais de retour.
Dans l'hypothèse de l'exercice du droit de rétractation, le client peut demander le remboursement des sommes versées sous réserve de la réexpédition à ses propres frais des produits. Ce remboursement sera effectué dans les meilleurs délais et au plus tard dans les 30 jours qui suivent l'exercice de ce droit.