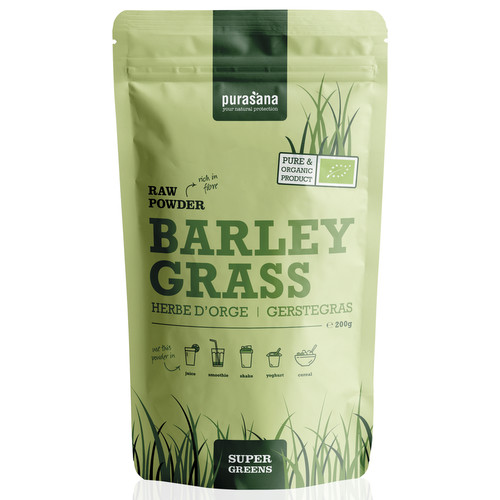 Purasana
1
Barley grass powder - organic
---
Fabriquant: Purasana
Contenu: 200.0
G
Référence: PU005
---
Win 108 beez by buying this product
Since long time ago Barley grass, in fact cuts of young barley grass, has been appreciated for its nutritive and therapeutic properties, easy usage and pleasant taste.
This raw quality barley grass powder is a concentration of healthy nutrients: trace elements, vitamins, minerals, enzymes, antioxidants, chlorophyll, fibres, amino acids, including the 8 essential amino acids, ... so that it is actually known as "Superfood ". More specifically it contains an excellent antioxidant (2-0 glyco-sylisovitexine, even more powerful than vitamin E), it is rich in fibres and vitamin B2, source of magnesium and vitamin B1, and it contains a large amount of enzymes (there are currently about 3000 types known and barley grass contains nearly one third of them) and vitamins A, E, C and K.
"Raw quality" food is treated below a maximum of 42°C, because enzymes and healthy nutriments (e.g. a large part of vitamins) are destroyed beyond this temperature.
As a result of its rich composition, barley grass allows to prevent several diseases, including those of the cardiovascular and ENT sphere, also to improve memory, quality of skin texture, libido, and to facilitate digestion and fight against fatigue. Moreover it seems to have soothing properties and can be consumed daily as a dietary supplement because there are no known side effects.
First consumed as it is, chewed freshly cut or dried, it is nowadays currently available in the form of juice (a little bitter), tablets or powder for dilution. You can also use it freshly cut if you let germinate and grow Naked Barley Grains - organic in a pot at home or in the garden. The taste of barley grass powder, reminiscent of creamy fresh peas, is very appreciated and can enhance lots of dishes and drinks.
Ingredients
barley grass* * from certified organic agriculture
Origin
Mongolia
Production
The barley grass is dried and transformed immediately after harvest.
Raw quality Produkt. "Raw quality" food is treated below a maximum of 45°C, because enzymes and healthy nutriments (e.g. a large part of vitamins) are destroyed beyond this temperature.
Characteristics
Rich in fibre, potassium, folic acid, calcium and vitamins B1 and B5. Naturally contains chlorophyll and carotenoids.
Average data per 100g
- energy: 1123kJ/ 268kcal
- protein: 17,2g
- carbohydrates: 8 g of which 0g sugar
- fat: 4,3 g of which 0,8g saturated fat
- fibres : 55.7g
- salt: 0,7 g
- vitamin B1: 0,7 mg
- vitamin B5 (pantothenic acid): 7,68 mg
- vitamin B11 (folic acid): 0,36 mg
- calcium: 256mg
- potassium: 3500mg
- chlorophylle: 2, 410 mg
- caratenoides: 28 mg
Properties
Exceptionally rich in nutritive elements, phytonutrients.
One of the most effective means in order to balance the pH of the body.
Detoxifies (chlorophyll)
Helps restore the digestive system
Rich in essential nutrients
Gluten-free
Recommendations for use
there is no official posology for barley grass powder or tablets but it is usually advised to consume two table spoons per day or as needed
delicious in a super-smoothie, shake or muesli
for a drink: dilute 1 table spoon in water or fruit juice
Precautions for use
Store away from heat, moisture, and light, in well-closed package.
Keep out of reach of jong children.
This is a preview of the recently viewed products by the user.
Once the user has seen at least one product this snippet will be visible.
Recently viewed Products