Basil essential oil - organic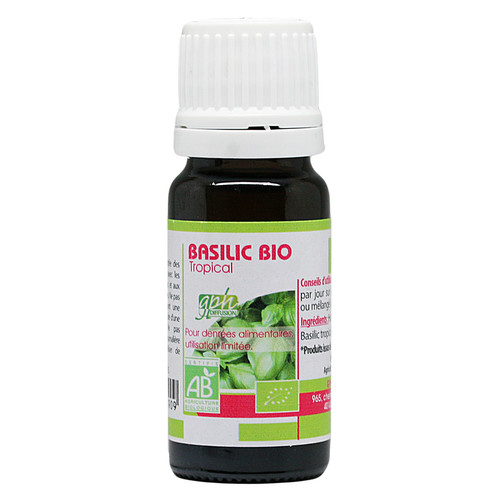 GPH Diffusion
Basil essential oil - organic
---
Win 32 beez by buying this product
---
Internal Reference: GH016
Products Content: 10.0
Products Content Unit: ML

This Basil, also called exotic Basil, essential oil has powerful antispasmodic and antiviral properties. So it soothes digestive, gastrointestinal spasms, and, toning liver, gallbladder and digestive system, it promotes light and unhindered digestion.
It is moreover antalgic and anti-inflammatory and so useful to counter tendinitis, joint discomfort, rheumatism, and, alone or in synergy, soothes muscle cramps. It is also useful before effort by relaxing the muscles.
On the mental level it combats lethargy, nausea, promotes concentration and helps to find the right balance of things. To recommend to people stressed from work.
There are many varieties of basil, but exotic basil is most often used in aromatherapy. It comes from India, Vietnam, Madagascar. It's worth noting that a study was done which sets aside carcinogenic suspicion of methyl-chavicol when it is in the form of basil extract and not in pure form (http://edepot.wur.nl/121896).
From the over 150 types of basil around the world only some are suitable for therapeutic use. The Chinese have used basil oil to invigorate blood circulation, improving the health of the kidneys and the digestion whilst Far Eastern medicine used it in the treatment of a range of respiratory ailments. Western medicines preferred to use basil for the relief of nervous ailments, rheumatic pain and skin conditions. Current understanding of basil acknowledges the contribution of both Eastern and Western traditions and regards the herb as an effective remedy for respiratory, digestive and nervous complaints.
Those who, gourmets, also want (or prefer) to take advantage of the properties of basil in less concentrated form, could for example try a delicious Basil Pesto.
Latin name
Ocimum basilicum
Origin
Madagascar
Production
- 100% pure and natural
- from certified organic farming
Characteristics
Bioflore products are systematically organic, with very few exceptions, and are particularly appreciated by individuals and therapists worrying about purity, clear definition.
Bioflore essential oils are botanically and chemically defined (or "chemotyped"), are natural, are in full conformity with the criteria of modern aromatherapy and obtained by artisanal distillation with water vapour or by simple mechanical expression of the zest in the case of Rutaceae fruits. They are complete essential oils: distillation was conducted from start to finish. They are pure and unrectified ("100% pure and natural") nothing was added to their natural biochemical composition. The labeling refers to the origin of the plant, the part of the plant that has been distilled, the Latin name, identifying the species accurately, and finally the chemotype or biochemical characteristic of a given species, which may vary according to the habitat.
Properties
- powerful antispasmodic
- digestive and hepatobilary tonic
- analgesic
- anti-inflammatory
- antiviral
- average antibacterial
Traditional use
- Muscle cramps, contractions and spasms
- Arthritis, tendinitis, rheumatism
- Dysmenorrhea
- Nausea, aerophagy, flatulence, gastrointestinal spasms
- Viral hepatitis and liver congestion, gout
- Headaches
- Spasmophilia anxiety, nervous sleeplessness (nervous insomnia, nervous fatigue (nervous asthenia)
Recommendations for use
- Internal use: 1 drop of essential oil in virgin olive oil after meals.
- External use: 3 drops of essential oil + 5 drops of virgin hazelnut oil on the belly for digestive spasms and painful periods (several times a day).
- Food: mix 8 drops of basil essential oil and 2 drops of lemon essential oill to 50 ml of virgin olive oil and you get a deliciously scented oil to accompany a series of dishes.
Precautions for use
- do not use in the first 3 months of pregnancy
- skin irritation (dermocaustic) possible if used pure
- at the first cutaneous use of an essential oil always make a test at the inner side of your elbow to make sure that it does not cause you any allergic reaction
- as essential oils are volatile, sensible to UV radiation and inflammable at high temperature, it is imperative to store them in a tightly closed dark glass bottle and at a temperature between 5 °C and 40 °C
Warning
: the above information is taken from serious books but should only be considered as preliminary information in a discussion with your doctor or aromatherapist.