Elixir circulation, digestion, well-being - Organic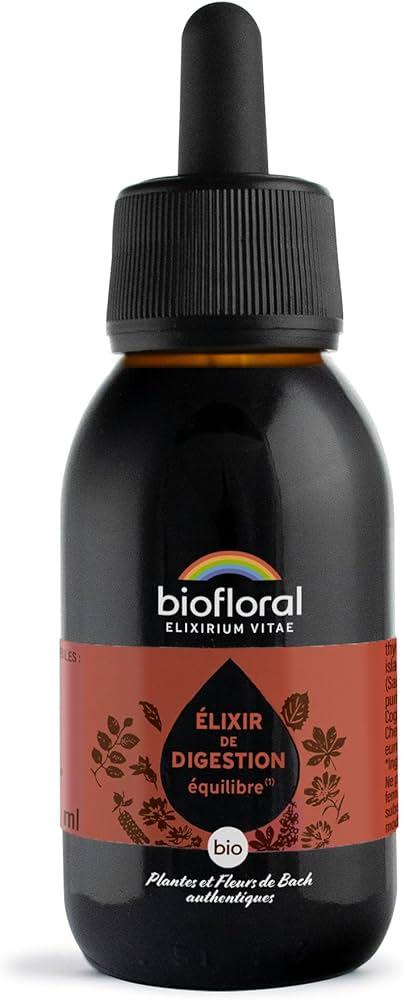 Biofloral
Elixir circulation, digestion, well-being - Organic
This Elixir composed of 32 plants from the mountains of Auvergne promotes the general well-being of the body.
---
Win 182 beez by buying this product
---
Internal Reference: BI147
Products Content: 375.0
Products Content Unit: Ml
Barcode: 3760029840052

Elixir circulation, digestion, well-being
This Elixir is composed of 32 plants from the mountains of Auvergne with multiple virtues known since the Middle Ages in synergy with flower elixirs from Doctor Bach and spagyric essences. It helps to find a new balance and general well-being.

The plants used grow in altitude on a volcanic soil 300 million years old, in a pure and strong nature.

- Rosehip, Wild Strawberry, Gentian and Sage help to combat general fatigue.

- Birch, Linden, Heather, Fennel, Wild Raspberry, Ash, Juniper, Hazelnut and Dandelion stimulate digestion and drainage through internal regulation.

- Hawthorn and Blueberry act on blood circulation.

- The Pine Bud and Yarrow increase the body's defences.

- The Willow promotes the flexibility of the articulations.

- The other mountain plants contribute to harmony and well-being and act in synergy.

To finish a copious meal, in regular cure in order to benefit from the virtues of the product.

Pure: 1 tablespoon (i.e. 15ml) preferably outside of meals. 2 times / day.

Diluted: 2 tablespoons in 1 liter of water to drink throughout the day.

To be used as an attack cure per cycle of 28 days (i.e. one lunation), several times during the year.

2 BOTTLES OF 375ml = 1 CURE

Do not exceed the recommended daily dose.

Not a substitute for a varied and balanced diet or a healthy lifestyle.

Keep out of reach of young children.

Due to the presence of alcohol, not recommended for people suffering from alcoholism, pregnant and breastfeeding women.

Shake well before use. Product may have a cloudy appearance, which does not affect its quality. After opening keep in a cool place.

Do not expose to the sun, avoid proximity to a microwave oven or cell phone.
Ingredients per 30 mL (DJR) 
Hydroalcoholic extract of plants based on organic wine composed of : rosehip* (Rosa canina), pine buds* (Pinus sylvestris), gentian* (gentiana lutea), fr/ne* (fraxinus excelsior), angelica* (angelica archangelica), yarrow* (achillea millefolium), hawthorn* (crataegus monogyna / 0.82 mL), heather* ( Calluna vulgaris / 0.82 mL), milk thistle* (Silybum marianum), juniper* (juniperus communis), willow* (salix alba), coriander* (coriandrum sativum / 0.82 mL), lemon balm* (melissa officinalis / 0.82 mL), nettle* (Urtica dioica), rosemary* (Rosmarinus officinalis / 0.82 mL), thyme* (thymus vulgaris / 0.82 mL), red vine* (vitis vinifera / 0.82 mL), bilberry* (vaccinium myrtillus), fennel* (foeniculum vulgare), hazel* (corylus avellana), lime* (Tillia platyphyllos / 0.49 mL) and other plants from Auvergne* ; honey from organic farming; Floral Elixirs prepared according to Dr Bach's original method* at 1/240e (Pinus sylvestris, Juglans regia, Larix decidua, Malus pumila); Spagyric essences (hydroalcoholic extract of burdock, blackthorn, gentian, heather)*.

*Extracts of plants from Organic Agriculture