Taragon essential oil - organic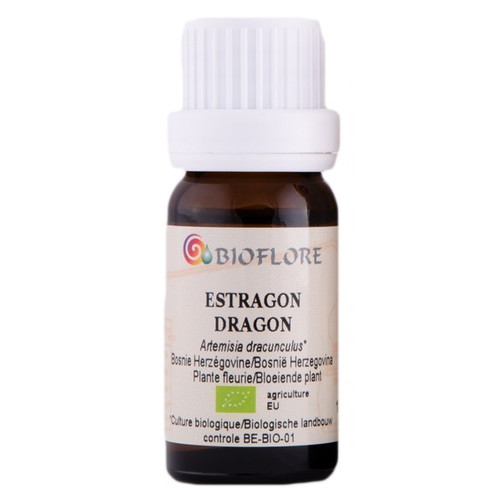 Taragon essential oil - organic
L'huile essentielle d'Estragon est très efficace pour améliorer la digestion, atténuer le hoquet et calmer certaines allergies.

---
Win 99 beez by buying this product
---
Internal Reference: BF065
Products Content: 10.0
Products Content Unit: ML
Barcode: 5425038832648

Tarragon essential oil has remarkable digestive properties and acts specifically against neuromuscular spasms (can instantly stop hiccups, relaxes muscles before exercise and soothes muscle cramps). It also reduces the most unpleasant manifestations of allergy.
Although having the same active ingredient in larger quantities tarragon and basilic do not have a totally similar action: basil brings lightness of mind and detachment, tarragon, closer to the earth, has the sole intention to freei (very effectively!) from vices that paralyse vitality.
Latin name
Artemisia dracunculus
Origin
Spain
Production
essential oil qualified "100% pure and natural"
Characteristics
Tarragon essential oil has a subtle aromatic, aniseed odour. Tarragon has the same main constituent as basil, namely methylchavicol ether, as well as anethole, a molecule of the same family. This explains the close aromas and very similar properties, although more specific on the side of tarragon. It is methylchavicol (estragol) that, unther others, stimulates digestive secretions, has antihistamine properties, and an action on muscles and nervous system to regulate movements and avoid spasms.
Properties
digestive comfort (appetizing, stomachic and carminative)
muscle comfort
improves daily life in case of hypersensitivity to various allergens
positiving, nervös harmony, helps release vital resources
Traditional use
lack of appetite, digestive disorders, flatulence, spasmodic colic
hiccups, motion sickness
cramps, pains
allergies, asthma
spasmodic coughs
Recommendations for use
Internal use:
useful for culinary purposes
digestive problems: 2 or 3 drops in a little bit vegetable oil or alcohol before or during a heavy meal
intestinal worms: 2 or 3 drops in a little bit vegetable oil or alcohol before or during meals (to provoke the expulsion of the worms)
motion sickness or hiccups: 2 or 3 drops in a little bit vegetable oil or alcohol when required
External use:
indigestion, motion sickness, hiccups, lack of appetite: massage the solar plexus area before or during meals with a mixture of 7 drops essential oil of tarragon in 10ml sweet almond oil, or make a few inhalations (10 drops of essential oil in 1-2 liters of hot water)
painful periods (relief during): massage the abdomen with the above mixture (tarragon and sweet almond) or take a warm bath with addition of 5 drops of tarragon mixed with a little bit almond oil or alcohol
Precautions for use
do not use in the first 3 months of pregnancy
skin irritation (dermocaustic) possible if used pure
risk of photosensitivity (Do not apply before sun exposure)
essential oil qualified "100% pure and natural"