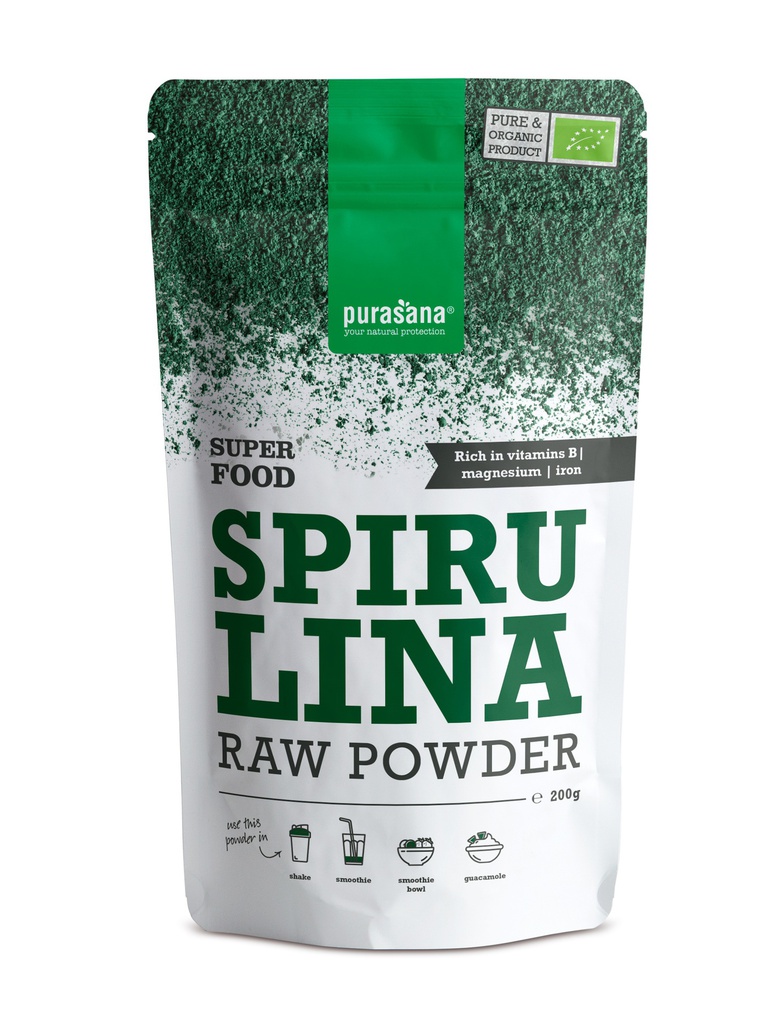 Spirulina powder - organic
1
---
Contenu: 200.0
G
Référence: PU014
---
Win 102 beez by buying this product
Spirulina is a blue-green freshwater alga. It consists mainly of vegetable proteins (50% à 70%), is very rich in vitamins (A, B, E), minerals (iron, calcium, magnesium, zinc, potassium, manganese) and contains also unsaturated fatty acids. All this makes it an excellent nutritional supplement useful for athletes and convalescents. It could help solve many problems of malnutrition in the world.
Latin name
Spirulina platensis
Ingredients
Spirulina* (Spirulina platensis) powder * from certified organic agriculture
Origin
Mongolia
Production
Raw quality Produkt. "Raw quality" food is treated below a maximum of 45°C, because enzymes and healthy nutriments (e.g. a large part of vitamins) are destroyed beyond this temperature.
Purasana Spirulina fresh water alga is cultivated in an unspoiled environment removed from everyday farming and industry. Thanks to the favourable climate, the ideal location, the use of pure water and the raw qualtiy this blue-green alga possesses a large number of phytonutrients. Purasana Spirulina is sourced in Mongolia, is among the most high-quality green superfoods and contains 100% organic spirulina powder (Arthrospira platensis).
Characteristics
Nutritional values per 100g
energy: 1627kJ / 389kcal
fat: 6,9g of which saturates: 3,3g
carbohydrates: 17g
fibre: 0g
protein: 66g
salt: 1g
Properties
Spirulina, so rich in valuable nutrients, is somehow a "super food". It contains in particular 50% to 70% proteins of good quality (as well for their composition as for their digestibility) and appreciable amounts of carotenoids (beta-carotene, cryptoxanthin, lutein, zeaxanthin ...), of iron, phycocyanin (which is assigned an important antioxidant action).
Spirulina also contains chlorophyll, gamma-linolenic acid (unsaturated fatty acid of the omega-6 family), vitamins and small amounts of several minerals. It is low in calories and seems immune modulator. In Superfoods For Optimum Health: Chlorella and Spirulina you will find a lot of information, but we recommend not to forget the importance of a biological quality and the maximum quantity per day preconized by the producer.
Traditional use
Several studies attribute to spirulina a more or less important contribution in the treatment of leukoplakia, hyperlipidemia, cholesterol, blood sugar control for people with diabetes, or in fight against some pathogens (viruses like HIV or micro - organisms responsible for pneumonia) or against toxic substances like arsenic, cancer radiotherapy or chemotherapy agents.
Currently if there is nothing to really draw any clear conclusions on the clinical effectiveness of spirulina for humans, it seems a valuable contribution for convalescents, athletes, malnourished vegetarians / vegans... Its beneficial effects have been reported during treatment of patients with anaemia, diabetes, high tension, liver disease, eye problems and many other debilitating diseases.
Recommendations for use
0,5g à 3g per day at mealtime.
As Spirulina is a highly concentrated food and has detoxifying properties, it is recommended to start with half a tablet daily and increase by 0,25g per week. Thus you minimize the risk of various symptoms (gastrointestinal disorders, headaches ..) related to the detoxifying properties of spirulina and due to too high starting dosages.
For some people spirulina may have a stimulating effect, it is thus preferable not to take it in the evening.
Precautions for use
Keep dry under ambient temperature.
Keep away from children.
No contra-indication at recommended doses, but some advise caution for pregnant or breastfeeding women because of lack of data about this subject. Obviously people with phenylketonuria should avoid spirulina, because as any food containing proteins, it is a source of phenylalanine.
This is a preview of the recently viewed products by the user.
Once the user has seen at least one product this snippet will be visible.
Recently viewed Products