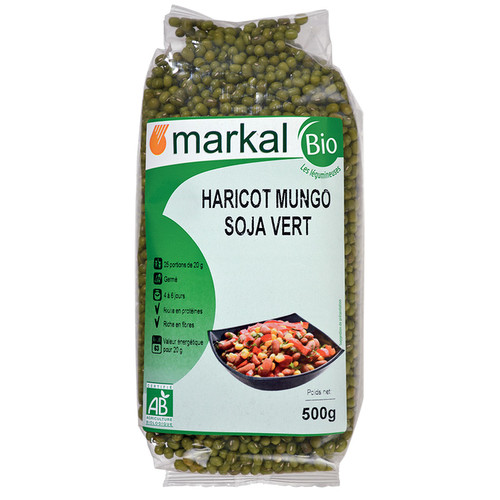 Markal
1
Mung Beans - organic
---
Fabriquant: Markal
Contenu: 500.0
G
Référence: MK178
---
Win 31 beez by buying this product
Mung beans or green soy beans, as the Azuki Beans, loose food - organic ), are easier to digest than many other leguminous. They are sweet and soft, dark green outside, dark yellow inside, and may be sprouted or used peeled or whole, split or ground in lots of culinary preparations. Mung beans are "proteaginous" seeds which are consumed for their protein content but also for their multiple health properties. In addition to the properties of Légumineuses (rich in minerals, proteins, vitamins, fibres) mungo beans are known to have strengthening and anti-fatigue properties.
Mung beans may be used in a variety of ways, including making noodles although the most popular use of mung beans in the western world is for sprouting. Interestingly, the sprouts contain vitamin C that is not found in the bean. Sprouting is an easy and convenient way to provide fresh salad ingredients on demand. The sprouts are used when they are about 2 to 5 cm long, raw or cooked.
Mung beans (also known as moong bean, katjan indju, green gram or golden gram) and Azuki Beans, loose food - organic are some of many species recently moved from the genus Phaseolus to Vigna, and are still often seen incorrectly cited as Phaseolus aureus, Phaseolus radiatus or Phaesolus angularis.
Latin name
Vigna radiata
Ingredients
mung bean* * from certified organic agriculture
Origin
China
Production
Allergen prevention measures implemented by the company MARKAL:
the packaging schedule is defined based on allergens
complete cleaning after each product
additional cleaning at the end of workingshifts by a specialized company
Characteristics
Nutritional values per 100g
energy: 1325,9kJ / 314,6kcal
fat: 1,6g of which saturates: 0,1g
carbohydrates: 40,7g of which sugars: 1,4g
fibre: 18,3g
protein: 25,2g
salt: 0,1g
The composition of the proteins of leguminous grains (except in the case of soybeans ) certain essential amino acids such as methionine, are found in small quantities, hence the need to combine leguminous with other protein sources such as Céréales (Pseudo-) (rich in methionine and low in lysine) or Graines , Fruits à coque , which have essential proteins complementing particularly well those of leguminous (poor in methionine and rich in lysine).
Properties
Culinary leguminous offer a health factor which should not be neglected. A health recommendation is indeed to consume often leguminous as meat replacement.
Dried leguminous grains are rich in carbohydrates (in the form of starch), proteins, minerals (phosphorus potassium, magnesium, manganese, iron), fiber and vitamins (B1, B9, E) and poor in fat, cholesterol-free. Their fibre content makes them particularly satiating, perfect as part of a slimming diet. Thanks to their proteins and fibres, their carbohydrates are very slow to digest (low glycemic index) and so they are suitable for diabetics.
Some studies have linked regular consumption of leguminous to various health benefits such as better control of diabetes, a reduced risk of cardiovascular disease and a decreased risk of colorectal cancer.
In leguminosae compounds which are both harmful and beneficial have been found. So their phytochemical compounds such as lectins and saponins may reduce the bioavailability of certain nutrients but the researchers claim that in a context (as in occident) where there is food abundance and diversity and where nutritional deficiency is rare, this effect has little impact on health. In more recent years in vitro and animal research has even associated consumption of these compounds with certain benefits such as a reduction of the growth of cancer cells and improved blood lipid profile.
Recommendations for use
Basic cooking: wash and cook 30 minutes in a large amount of water. Prepare 50g to 100g of row beans per person.
For adults it seems that this complementation can be done over a day, however for children, adolescents, pregnant women, the elderly, it is preferable to achieve complementarity of proteins within the same meal.
Germination (4 to 6 days).
Precautions for use
If you're not used to eating foods from the legume family, introduce them slowly.
Store a way from light under fresh and dry conditions in a closed packaging.
May contain traces of gluten, sesame, soybean, mustard, nuts and lupin.
This is a preview of the recently viewed products by the user.
Once the user has seen at least one product this snippet will be visible.
Recently viewed Products