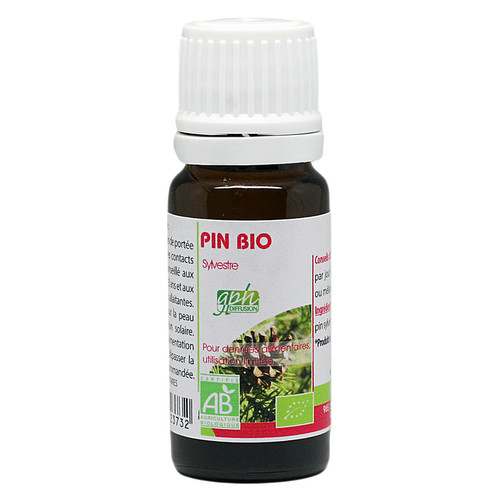 Pine Needle essential oil - organic
1
---
Contenu: 10.0
ML
Référence: GH023
---
Win 38 beez by buying this product
Organic Pine Needle Oil, with strong, clarifying turpentine-like odour, can fortify and supports the respiration, circulation and muscles. The oil was traditionally added to baths to cleanse the skin, unlock tired muscles and bring comforting heat to rheumatic and arthritic discomfort. Although these healing properties are still highly regarded today, pine needle oil is most commonly used to promote greater respiratory ease, to clear lungs and sinuses and purify the breathing and urinary systems of harmful infections.
With a pleasant, warming action, this oil will also relax and quiet tired and troubled minds. It soothes the mind, makes it available to evasion and combats states of stress accompanied by mental exhaustion and chronic fatigue.
Latin name
Pinus sylvestris
Origin
France
Production
essential oil qualified "100% pure and natural"
Properties
average antibacterial
rubefacient, percutaneous analgesic
fungicide
lymphatic and ovarian decongestant
cortisone and hormone mimetic
respiratory antiseptic, expectorant, balsamic
urinary tract and skin antiseptic
hypertensive
Traditional use
Deep asthenia, sudden) bouts of fatigue
Bronchitis, catarrh, sinusitis, cough, laryngitis
Sciatica, lumbago, arthritis, cramps, rheumatism
Hypotension
Congestion of the pelvis, prostatic congestion
Nervous exhaustion, neurasthenia, depression
Dull skin, psoriasis, eczema, excessive sweating
Recommendations for use
Internal use: 2 drops of essential oil, 2 times a day, in olive oil for hypotension and asthenia
External use: 3 drops of essential oil and 5 drops hazelnut virgin oil, 3 times a day, on the body area next to the target organ to be treated
Precautions for use
not recommended for children under 6 years.
do not use in the first 3 months of pregnancy
skin irritation (dermocaustic) possible if used pure
Warning
:
The above information is taken from serious books but should only be considered as preliminary information in a discussion with your doctor or aromatherapist.
The vast majority of essential oils are to be used only diluted in a vegetable oil, honey or other suitable medium respecting the recommended dosages.
When using an essential oil for the first time on the skin, always make a test on the inner sied of the elbow to make sure it does not cause any allergic reaction.
As essential oils are volatile, sensible to UV radiation and inflammable at high temperature, it is imperative to store them in a tightly closed dark glass bottle and at a temperature between 5 °C and 40 °C.
This is a preview of the recently viewed products by the user.
Once the user has seen at least one product this snippet will be visible.
Recently viewed Products