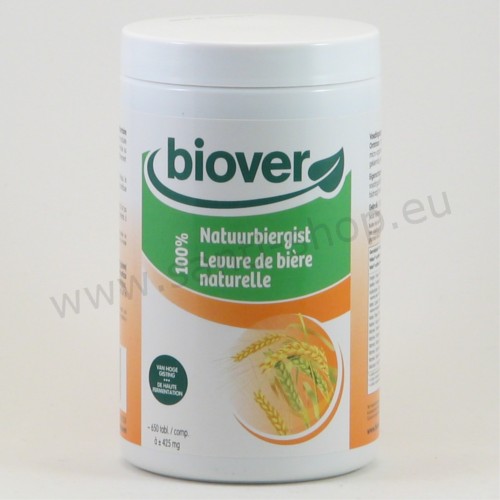 Biover
1
Natural brewer's yeast
---
Fabriquant: Biover
Contenu: 275.0
G
Référence: BV070
---
Win 87 beez by buying this product
Brewer's yeast is an excellent nutritional supplement, which can contribute to a healthy and balanced diet.
Brewer's yeast is naturally rich in the following elements: proteins (18 types of amino acid), B vitamins (fixed in their natural environment), glutathion (which improves oxygen transport to the cells and improves the cellular metabolism), choline, inositol, minerals, trace elements, nucleonic acid.
Brewer's yeast increases resistance to fatigue and infections, exerts therapeutic effects on digestive and skin problems: good general health, improved skin, hair and nails condition, slowing down of skin aging...
Brewer's yeast cures are also recommended in case of: impaired growth, malnutrition, weakened condition, functional disorders by pregnant ladies, infectious diarrhea, prevention of digestive disorders associated with antibiotic treatment, skin diseases, etc.
Brewer's yeast (gluten) develops as a culture of micro-organisms (Saccharomyces cerevisiae or Calbergemsis) on germinated barley (malt). An extremely rich source of nutrition.
Ingredients
100% natural brewer's yeast. 650 tablets of 425mg.
Characteristics
Nutrional values per 100g
energy: 1184kJ / 279kcal
fat: 3.1g of which saturates: 1.15g
carbohydrates: 47.7g of which sugars: 9.9g
fibre: 23.3g
protein: 44.5g
salt: 0.04g
Vitamin B1: 17mg
Vitamin B2: 3.92mg
Vitamin B3: 40.7mg
Vitamin B5: 7.74mg
Vitamin B6: 2.78mg
Folic acid: 4.9mg
Recommendations for use
3 x 6 tablets per day, to be taken with a little water or fruit juice.
The crushed tablets can also be mixed with Yogurt or sprinkled on salad.
Children from 6 years should only take half this dose.
If taken before meals, it will reduce your appetite.
This is a preview of the recently viewed products by the user.
Once the user has seen at least one product this snippet will be visible.
Recently viewed Products