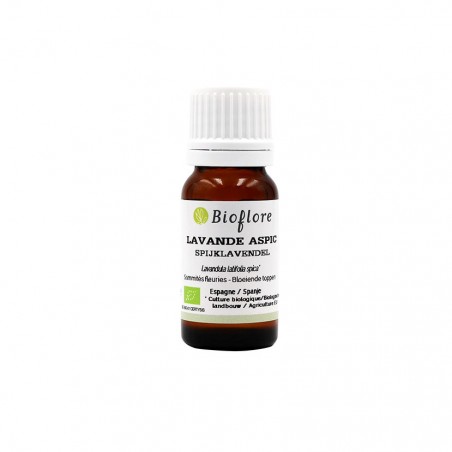 Spike lavender essential oil - organic
1
---
Contenu: 10.0
ML
Référence: BF077
---
Win 45 beez by buying this product
The large number of indications treated by lavender positions this essential oil as a panacea. For Bioflore spike lavender essential oil is "the other lavender" because as essential in aromatherapy as Lavender essential oil - organic .
The action of spike lavender oil will be superior to that of true lavender on burns and stings of poisonous animals such as insects (bee, wasp, mosquito, spider, fleas...), scorpions, jellyfish... The skinhealing power of spike lavender essential oil can also be used for the treatment of fungal infections and various dermatoses.
The three major ingredients of its biochemistry are linalool (a current monoterpenol), cineole and camphor (or borneone), the presence of cineole oxide conferring mucolytic and expectorant properties. It is suitable as basic treatment of respiratory diseases.
Spike lavender essential oil can also be considered to reduce rheumatic and muscle cramps. It is tonic, and in particular a cardiac tonic, thanks to its camphor.
Lively and oxygenating it perfectly expresses the luminous nature and wilderness from which it originates. No soothed internalization as in the case of fine lavender, but a frank openness of heart and mind to evasion and new environment. In everyday life, its great talent is to make its useres impermeable to stress - because of the linalool - so that their mind can operate lucidly and without hindrance.
Latin name
Lavandula latifolia spica
Origin
Spain
Production
- 100% pure and natural
- from certified organic farming
Characteristics
flavour: camphory, fresh and grassy
Properties
- equilibrates the skin (bites, skin infections, dermatitis ..)
- powerful antitoxic, excellent antifungal
- exceptionally cicatrizing in external use
- antiviral and immunity stimulating, averagely antibacterial
- anticatarrhal, expectorant
- antalgic, analgesic (relieves pain)
- mental tonic, promotes mental acuity and lucidity
Traditional use
- Insect stings (wasps, bees, mosquitoes, fleas, ticks ..), jellyfish, scorpions ... (local applications)
- Burns, wounds, ulcers, pressure ulcers, acne, rosacea, psoriasis, eczema, dermatitis, herpes zoster (shingles), chickenpox, labial herpes, genital herpes
- Skin and gynecological fungal infections, for example athlete's foot (ringworm of the foot, tinea pedis, tinea pedum, moccasin foot)) (local applications)
- Bronchitis, laryngitis, sinusitis, otitis, rhinitis (friction on the chest, back, temples)
- Articular rheumatism, muscle and joint discomfort (localized friction)
- Nausea, headache
- Asthenia nervous, nervousness, depression, stress, insomnia, difficulty for expressing emotions
.
Recommendations for use
- Internal use: 2 drops of essential oil, 2 to 3 times per day, in olive oil, for artery and nerve indications.
- External use: 3 drops of essential oil on the arch, the inner wrist or the solar plexus (repeat as needed) for nerve indications and local applications for all other indications.
- On a wasp, jellyfish, scorpion ... sting, apply every 5 minutes for 1/2 hour 2 drops of spike lavender. Remarkable result.
- Diffusion
- 2 drops of lavender essential oil on the underside of the pyjama collar or pillowcase will promote a rapid and restorative sleep.
Precautions for use
Warning
: the above information is taken from serious books but should only be considered as preliminary information in a discussion with your doctor or aromatherapist.
This is a preview of the recently viewed products by the user.
Once the user has seen at least one product this snippet will be visible.
Recently viewed Products