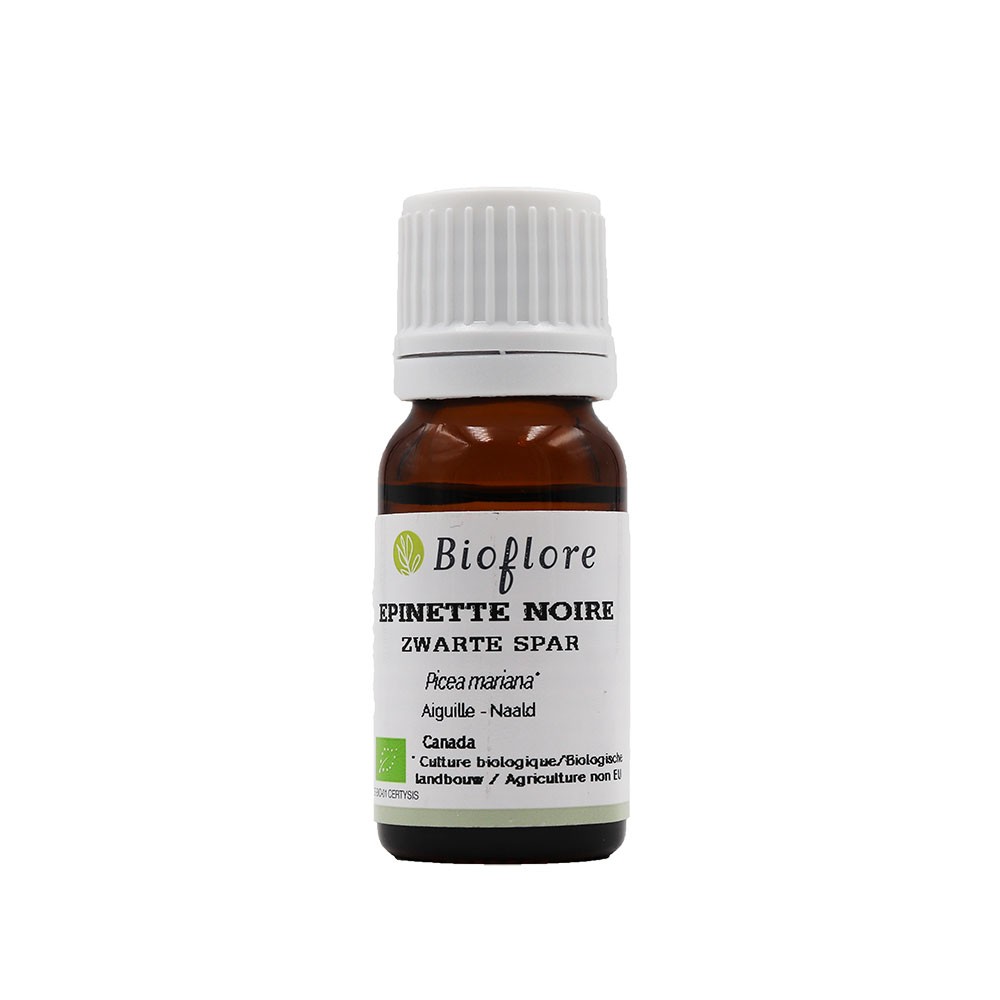 Spruce (Black) essential oil - organic
1
---
Contenu: 10.0
ML
Référence: BF023
---
Win 69 beez by buying this product
Black spruce essential oil is much recommended in respiratory pathology, can be used as that of Pine Needle for its oxygenating and balsamic properties.
Its anti-spasmodic and hormone-mimetic ("cortisone-like" because by its presence the body will generate natural cortisone with anti-inflammatory properties) are useful for joint pain and rheumatism.
Its ability to promote suprarenal recovery is useful for tiredness, intense physical fatigue, general fatigue, periods following feverish states, deep asthenia.
Latin name
Picea mariana
Origin
Canada
Production
essential oil qualified "100% pure and natural"
Characteristics
Odor:fresh and sweet, resinous, woody, slightly fruity note
The presence of a significant amount of bornyl acetate makes that it has gut anti-spamodic properties, good soothing effects on the respiratory system and through its many terpenes it can serve as an antiseptic for the lungs, a respiratory oxygenator (as a vapour).
Properties
general tonic, neurotonic
relaxing
hormone mimetic
anti-inflammatory
anti-fungal
antibacteriall
aerial antiseptic
antitussive, expectorant
antispasmodic
Traditional use
fatigue, deep asthenia, exhaustion, sudden bout of fatigue, immunosuppression
bronchitis, catarrh (common cold), sinusitis
acne, psoriasis and dry eczema
Skin and intestinal parasitoses (candida, lamblias, hookworms), eczema, cutaneous mycosis, psoriasis
muscular rheumatism
overactive thyroid (hyperthyroidism) related to adrenocortical fatigue
Recommendations for use
Externally: diluted in vegetable oil
skin care: local applications
joint and rheumatic pains: friction facing the concerned organs or localised (also in massage on the cortico-adrenal zone, in combination with Pine Needle essential oil)
fatigue: friction on the solar plexus and along the vertebral column (can be associated with Winter Savory essential oil - organic in these cases)
convalescence, fatigue: massage the back and the foot arch, also in diffusion, in olfaction
Internal use: 2 drops in a teaspoon of olive oil 2 times a day (on advice of a health professional), for intestinal parasitosis, bronchitis, cough
Diffusion: bad smells, respiratory tract infections, convalescence, fatigue, lack of self-confidence, anxiety, difficult concentration
Precautions for use
Prohibited to pregnant or breastfeeding women, epileptic patients, the elderly and children under 6 years (ketones)
Skin irritation (dermocaustic) possible if used pure
Warning
:
The above information is taken from serious books but should only be considered as preliminary information in a discussion with your doctor or aromatherapist.
The vast majority of essential oils are to be used only diluted in a vegetable oil, honey or other suitable medium respecting the recommended dosages.
When using an essential oil for the first time on the skin, always make a test on the inner sied of the elbow to make sure it does not cause any allergic reaction.
As essential oils are volatile, sensible to UV radiation and inflammable at high temperature, it is imperative to store them in a tightly closed dark glass bottle and at a temperature between 5 °C and 40 °C.
This is a preview of the recently viewed products by the user.
Once the user has seen at least one product this snippet will be visible.
Recently viewed Products