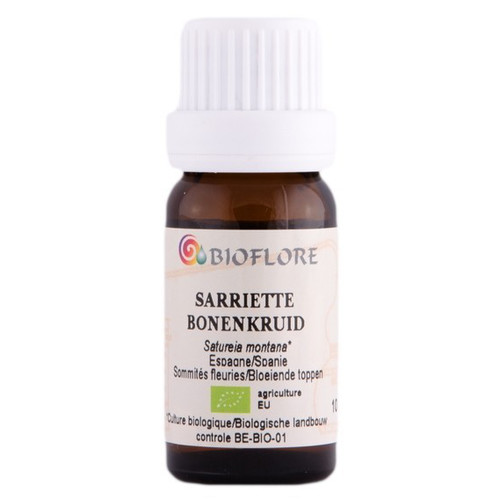 Bioflore
1
Winter Savory essential oil - organic
---
Fabriquant: Bioflore
Contenu: 10.0
ML
Référence: BF018
---
Win 93 beez by buying this product
Winter Savory (Satureia montana) essential oil is a tremendously effective oil concerning its disinfectant and stimulating action (vital force, immunity) and its softening effect (pain, respiratory tract), provided it is used sparingly and with caution.
Winter essential oil Savory is powerfully antibacterial, antiviral and anti-parasitic and is thus indicated in, among others, viral, bacterial or parasitic gastrointestinal, pulmonary or urinary disorders. It is a hypertensive oil countering deficit in vital and instinctive force (which would explain its traditional use as an aphrodisiac) and weakened immunity. Essential oil of Savory is also a pain reliever for muscle and joint pain by local friction with the before in a vegetable oil diluted oil.
Winter savory is mainly cultivated in Spain, France and the former Yugoslavia.
Latin name
Satureia montana
Origin
Spain
Production
- 100% pure and natural
- from certified organic farming
Characteristics
Smell: a herbal, tar-like fragrance
Recommendations for use
- For painkilling frictions: dilute essential savory oil in a little vegetable oil to moderate its dermocausticity (pure, it irritates sensitive skins). Also helpful in relieving the pain of an insect bite, drive away depression and asthenia or increase libido.
- Against warts: a drop of savory essential oil on a dressing applied to the wart. Renew the dressing every day and protect the healthy skin around the wart with a little Vaseline. If the wart resists, mix equal parts of savory and
Cinnamon essential oil - organic
essential oils and apply the same treatment.
- By inhalation or diffusion essential oil of savory fights against asthma, bronchitis, nasal congestion and flu conditions.
Precautions for use
- Not for use by pregnant women or for children or pure (except very localized: warts, boils) on the skin.
- Do not use after 5 pm because of risk of insomnia.
- No extended use without notice of an aromatherapist. For daily use prefer
Savory - organic
which is less concentrated but also highly efficient and very agreeable to drink.
Warning
: the above information is taken from serious books but should only be considered as preliminary information in a discussion with your doctor or aromatherapist.
This is a preview of the recently viewed products by the user.
Once the user has seen at least one product this snippet will be visible.
Recently viewed Products