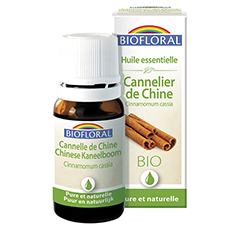 Biofloral
1
Cinnamon essential oil - organic
---
Manufacturer : Biofloral
Content: 10.0
ML
Reference: BI095



---
Win 57 beez by buying this product
Cinnamon essential oil is particularly effective in counteracting bacterial infections, but also has a high anti-viral, antifungal, vermifuge and broad spectrum anti-infectious potency. Its stimulating actin is general : immune, nervous, respiratory, cardiac and digestive systems. It would also be aphrodisiac and, slightly blood fluidifying, promotes a better circulation.
Beware of its dermocaustic effects: ust it only well diluted in a vegetable oil for cutaneous applications (except on warts) and with caution internally. Not recommended for sensitive skin.
At the psycho-emotional level, the tonic effect on the vital energy of cinnamon essential oil is accompanied by an euphoric and inhibitions liberating effect.


Latin name
Cinnamomum cassia


Production
essential oil qualified "100% pure and natural"


Characteristics
Fine perfume, warm and sweet.
It is the cinnamaldehyde, main component of the essential oil of cinnamon, which gives it its anti-infectious (respiratory, intestinal, digestive, urinary and gynecological infections, candidiasis) and antiparasitic (lice and nits, partes intestinal) properties, and stimulates cardiac, respiratory and digestive functions, the latter by increasing the synthesis of gastric mucus, which protects against gastric ulcer.


Properties
stimulant of the immune, cardiac, digestive and respiratory systems
general tonic
slight blood thinning, facilitates blood circulation
antiseptic, anti-infectious: antibacterial of high activity (very broad spectrum of action: 98% of the pathogene germs would be sensitive to it), effective antiviral, anti-fungal, anti-parasites (vermifuge)
mild antispasmodic
Traditional use
Febrile body aches, flu, colds
Physical and/or psychic asthenia, drowsiness, fatigue
Slow, difficult digestion, digestive spasms, worms
Pediculosis (lice), scabies, warts
Recommendations for use
Internal use (1 to 2 drops of essential oil 2 times a day in virgin olive oil, for genital, intestinal or urinary infection) and diffusion: only on the advice of a specialised therapist.
External use: 2 drops of essential oil per 10 ml of vegetable oil
flu, bronchitis: massage spine and feet
upper respiratory tract infections: massaging solar plexus and plantar arches
fatigue: massage the back and feet soles of the , also in olfaction
digestive problems, aerophagia, bloating, colitis, abdominal cramps, colic, infectious diarrhea: massaging the abdomen
lack of appetite: olfaction
Precautions for use
Not recommended for pregnant women
Not recommended for children under 8 years
Skin irritation (dermocaustic) possible if used pure.
Not recommended in inhalation and in the bath

Warning :

The above information is taken from serious books but should only be considered as preliminary information in a discussion with your doctor or aromatherapist.
The vast majority of essential oils are to be used only diluted in a vegetable oil, honey or other suitable medium respecting the recommended dosages.
When using an essential oil for the first time on the skin, always make a test on the inner sied of the elbow to make sure it does not cause any allergic reaction.
As essential oils are volatile, sensible to UV radiation and inflammable at high temperature, it is imperative to store them in a tightly closed dark glass bottle and at a temperature between 5 °C and 40 °C.
This is a preview of the recently viewed products by the user.
Once the user has seen at least one product this snippet will be visible.
Recently viewed Products