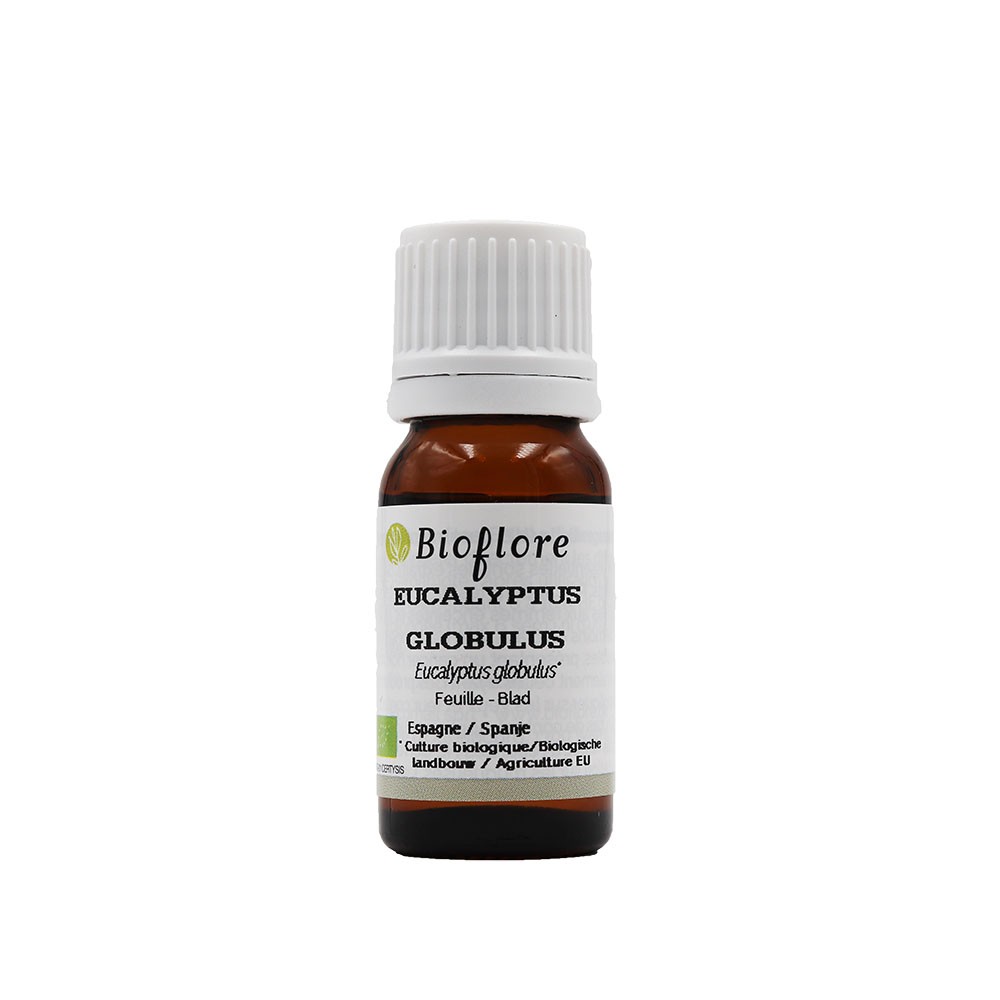 Bioflore
1
Eucalyptus globulus essential oil - organic
---
Fabriquant: Bioflore
Contenu: 10.0
ML
Référence: BF009
---
Win 37 beez by buying this product
Eucalyptus globulus essential oil is strongly expectorant and mucolytic and is used primarily for lower respiratory tract diseases: bronchitis, pneumonia, some forms of asthma with bronchial obstruction, emphysema. In diffusion it opens the respiratory tract and disinfects the air but when used in topical application it requires some caution.
Like all essential oils rich in cineole (formerly called "eucalyptol" because of its odor), it activates the mind: promotes logical thinking, sharpens attention, increases capacity to concentration, judgement and discernment.
The Eucalyptus globulus is widespread over the globe (Spain, Chile, India, China ...) and much used for its healing properties. It is a beautiful tree of the aromatic myrtle family which is also known as Tasmanian Blue Gum, Southern Blue Gum or Blue Gum.
Latin name
Eucalyptus globulus
Ingredients
Eucalyptus globulus* * ingredients from certified organic agriculture
Origin
Spain
Production
essential oil qualified "100% pure and natural"
Characteristics
slightly harsh, penetrating fresh smell characteristic of eucalyptol
Eucalyptus glogulus produces an essential oil whose rate of cineole can be very high for some oils on the market. For this Bioflore essential oil care is taken so that this rate does not exceed 75% and for these bottles it is 73.29%.
Properties
anticatarrhale, mucolytic, expectorant
antiseptic, antiviral, antibacterial, antifungal, medium antiparasitic
great atmosphere sanitizer
mental stimulating
Traditional use
lower respiratory diseases (nasopharyngitis or rhino-pharyngitis, laryngitis, flu, bronchitis)
bacterial and candidal dermatitis
Recommendations for use
Internal use: 1 to 2 drops of essential oil in a little honey, 3 times a day for respiratory diseases but not recommended for children under 6 years (risk of bronchospasm, so it is better to use
Eucalyptus radiata essential oil - organic
).
External use: 2 to 4 drops of essential oil and 3 drops hazelnut virgin oil, on throat, sinuses, thorax and back, on skin problem and around the ears according to diseases. For sensitive people, children or in cases of asthma the application on the chest can, because of the oil's power, cause a sensation of breathlessness and therefore it is better to limit the applications on the back.
In diffusion for disinfecting the air (10 minutes/hour)
Inhalation: 5 to 10 drops in a bowl of hot water, 5 minutes 2 times daily
In diffusion, mixed, for respiratory purposes (eg with essential oils of
Eucalyptus radiata essential oil - organic
,
tea tree
,
Niaouli essential oil - organic
).
Precautions for use
do not use in the first 3 months of pregnancy and for very young children
do not use for prolonged periods, neither in diffusion nor internal (at high doses it causes headache, a kind of prostration with hypotension or hypothermia, dryness of the mouth)
>
skin irritation (dermocaustic) possible if used pure
Warning
:
The above information is taken from serious books but should only be considered as preliminary information in a discussion with your doctor or aromatherapist.
The vast majority of essential oils are to be used only diluted in a vegetable oil, honey or other suitable medium respecting the recommended dosages.
When using an essential oil for the first time on the skin, always make a test on the inner sied of the elbow to make sure it does not cause any allergic reaction.
As essential oils are volatile, sensible to UV radiation and inflammable at high temperature, it is imperative to store them in a tightly closed dark glass bottle and at a temperature between 5 °C and 40 °C.
This is a preview of the recently viewed products by the user.
Once the user has seen at least one product this snippet will be visible.
Recently viewed Products