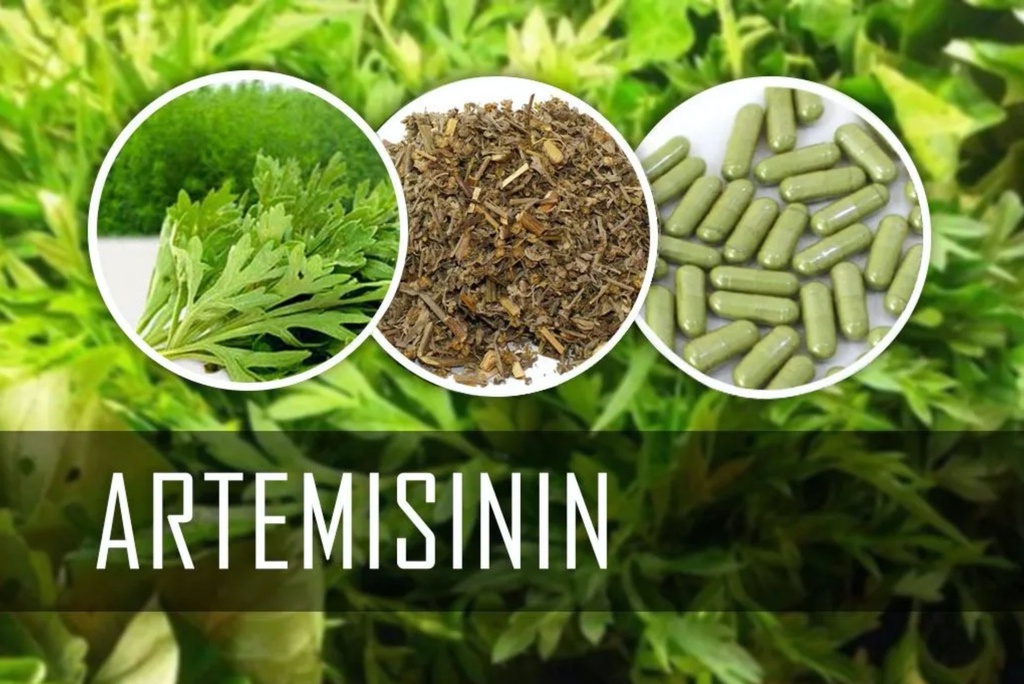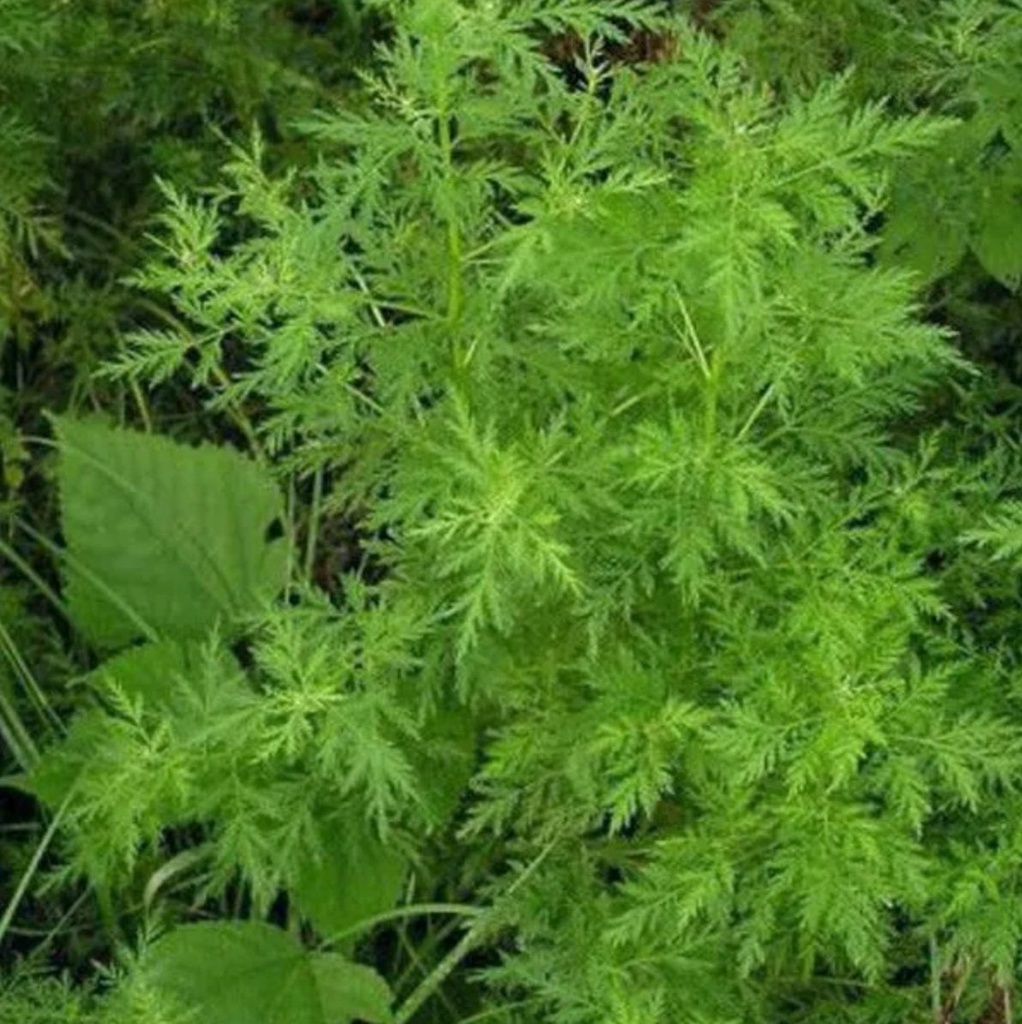 Grabionat
1
Artemisia Annua L (Artemisinin /Mugwort) + Iron
Annual Mugwort is used to treat malaria, sunstroke, menstrual pain and certain intestinal disorders. Recent studies show it to be effective in treating coronavirus.
---
Manufacturer : Grabionat
Content: 100.0
CAPSULE
Reference: AR001
---
Win 450 beez by buying this product
Artemisia Annua 
Artemisia annua,
 also known as
 annual mugwort
, is a medicinal plant of the Asteraceae family. It is native to Asia and has been used in traditional Chinese medicine for centuries to fight viruses. The
 natural mugwort 
contains several active substances including
artemisinin
, which is very present in the
 treatment of malaria
. 
Artemisia Annua against Covid-19 ?
More recently,
artemisia annua 
has entered the debate as a
possible effective treatment for COVID-19
.  
Indeed, several African countries including Madagascar already use this medicinal plant in the treatment of coronavirus although its effectiveness against the virus has not been proven with clinical studies. 
Trials conducted by the World Health Organization will be carried out to verify this effectiveness as well as potential side effects, but the WHO does not reject the possibility of its use.  
The actions of the artemisia annua
Anti-cancer action
Artemisinin kills the body's harmful cells: There is clear research that artemisinin alone kills the body's harmful cells, especially when it is bound to iron. 
The body's harmful cells like iron and therefore ingest the iron-artemisinin mixture. When bound to iron, artemisinin is 34,000 times more effective at killing the body's harmful cells! And according to studies published in journals such as Life Sciences, Cancer Letters and Anticancer Drugs, artemisinin can kill the body's harmful cells at a rate of 12,000 harmful body cells for every healthy cell. Artemisia Annua leaf extract has powerful antioxidant activities and cytotoxicity to leukemia cells. It can help people with leukemia. Since many cancers are precursors to intestinal problems, long-lasting antibiotics or drugs for recurrent diseases, artemisinin is always a herb to consider.
The peroxide function of the artemisinin molecule present in Artemisia annua reacts with Iron ions, releasing a free Oxygen radical that is extremely oxidizing and fatal to Iron-rich cells. This explains the destruction of blood parasites (Plasmodium falciparum) or their strong inhibition as well as the destruction of tumor cells. 
Other substances contained in the whole annual mugwort plant act synergistically for superior efficacy, it is in fact a multi-therapy. 
Action against malaria
 Artemisia annua is the most effective treatment against malaria, especially since despite their potency, some drugs continue to fail. The exact understanding of how it works is not completely clear, but it seems to attack the membranes of the malaria mitochondria. 
Action on sunstroke
Mugwort helps the body regulate internal heat and cool the blood through a controlled fever. Taken in the evening, it causes a high fever during the night to rebalance body heat. In the morning, the body will be healthier.In case of heat stroke, sunburn or sunstroke, this plant can help to "evacuate" heat, which manifests itself by fever, thirst, headaches and dizziness, when temperatures are high.
Action on the menstrual pains
The botanical term "mugwort" derives its name from the Latin Artemisia, referring to Artemis, protective goddess of women and childbirth, of the wilderness and the Moon in Greek mythology. Her name was chosen this way because mugwort is the "feminine plant" par excellence.
Ancient medicine believed that artemisia was capable of regulating menstrual cycles and helping pregnant women during childbirth. But during this period, annual mugwort was also used to relieve heavy and tired legs and varicose veins.It is also known to relieve painful periods and urinary tract infections.
Action on digestive disorders 
The annual mugwort is a very effective plant in the treatment of several digestive disorders:
- difficult digestion,
- colic, 
- chronic diarrhea, 
- intestinal worms,
- flatulence...
Mugwort owes its digestive properties to its content of active ingredients that stimulate the secretion of digestive juices. These are responsible for helping digestion by breaking down food.The artemisia is also a plant that is called aperitif, it opens the appetite, and carminative, it promotes the evacuation of intestinal gases.This medicinal herb is deworming and is able to eliminate a wide variety of intestinal parasites by weakening the membranes of these organisms. In fact, it was called "worm herb" a long time ago.
Latin name for annual mugwort : 
Artemisia Annua L
Other designations
Chinese Absinth, Artemisia, Artemisinin, Artemisia annua L, Artemisia, Annual mugwort 
Using advice for the Artemisia Annua
Maximum Doses :
- 1 capsule morning and evening before meals, as a cure (over a period of 2 to 3 months)
Normal Doses :
- 1 capsule per day as a preventive food supplement.
Precautions of use
Please note that this information is provided for informational purposes only and is not intended to be a substitute for the advice provided by your treating physician or other healthcare professional.
Artemisinin is a potent herb, it should only be used for short periods and rarely for more than 4 weeks at a time, although antimalarial doses have had few side effects.
There may be contraindications, for example with the use of anti-oxidants or anti-inflammatory drugs, with chemotherapy as well, so it is preferable not to combine or take drugs without first trying to determine the possible interferences. These effects usually manifest themselves in nausea, vomiting and diarrhea and last for about 4 to 6 days.
Ingredients
Per capsule:  
Capsules 100% vegetable, (HPMC). 95% Artemisia annua L + 5% iron.  
Powder 100% pure without addition of foreign bodies, zero excipient.100 capsules (vegan) 500 mg (NET weight). 
Doses maximales :
• 1 capsule matin et soir avant repas, à titre curatif (sur une période 2 à 3 mois)
Doses normales :
• 1 capsule par jour à titre préventif en tant que complément alimentaire.

This is a preview of the recently viewed products by the user.
Once the user has seen at least one product this snippet will be visible.
Recently viewed Products