Relaxation - organic - 30 capsules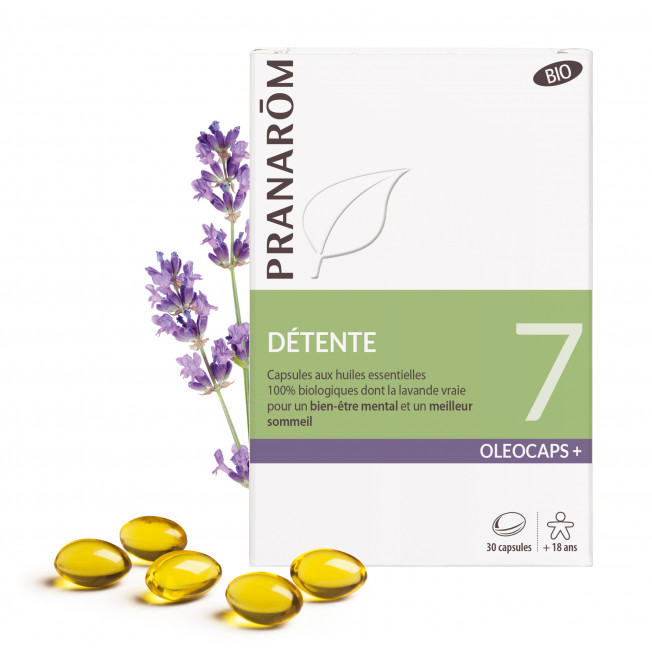 Relaxation - organic - 30 capsules
Capsules with 100% organic essential oils including true lavender for mental well-being and better sleep.
---
Win 148 beez by buying this product
---
Internal Reference: PO018
Products Content: 0.0
Barcode: 5420008528019

Relaxation - organic - 30 capsules

Faced with the hectic pace of our lives, we often feel stressed and overwhelmed! How can we manage this stress and these tensions, both physical and mental, which often have repercussions on the quality of our sleep? Oléocaps+ 7 BIO contains essential oils of Mandarin, True Lavender and Caraway to promote relaxation and relaxation and therefore, also to prepare for a good sleep. Nothing like it as an ally to assume more serenely our busy days and manage the worries of everyday life in the best possible conditions.
Posology
Swallow with a little water.

To promote sleep, 2 capsules in the evening; to promote relaxation in case of temporary stress: 1 to 3 capsules per day with meals.
Tips
To ease tension and promote mental well-being and better sleep.
Composition
Vegetable oil: Brassica napus* (Rapeseed); Gelatin* (Gelatin); Glycerin* (Glycerin); Essential oils: Citrus reticulata*(Mandarin), Lavandula angustifolia*(True Lavender), Carum carvi*(Caraway); Antioxidant: Tocopherol rich extract.
*Ingredient from organic farming (Certisys BE-BIO-01 control) - BIO means: from organic farming (Certisys BE-BIO-01 control).
Cautions
Keep out of reach of young children. Do not exceed the recommended dosage. Seek advice from a health care professional. Store away from heat and light. This product is not a medicine. Not a substitute for a varied and balanced diet and a healthy lifestyle. Do not use during pregnancy and breastfeeding, in children and adolescents under 18 years of age.
Packaging
This package contains 30 capsules.