Aromaforce Nose spray - organic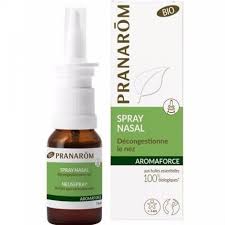 Aromaforce Nose spray - organic
Decongestant nasal spray in case of rhinitis and rhinopharyngitis
---
Win 126 beez by buying this product
---
Internal Reference: PO004
Products Content: 15.0
Products Content Unit: ML
Barcode: 5420008509148

Pranaforce Nose Spray is a solution with organic essential oils to clean and clear the blocked nose.
INCI
, outre les HE (mandravasarotra, épinette noire, eucalyptus radié, ciste ladanifère, myrte commun, géranium rosat) , il contient également de l'eau, de l'extrait d'hamamelis (vasoconstricteur), extrait de propolis (désinfectant des muqueuses), du sel (hypertonique) du sodium benzoate et de la gomme xanthane.
Ingredients
Essential Oils: Mandravasarotra*, Black Spruce*, Eucalyptus Radish*, Cistus (Rock rose)*, Common Myrtle*, Egyptian Geranium* Propolis and macerate of pine buds. * ingredients from certified organic agriculture
Characteristics
No preservatives (Parabens, Phenoxyethanol), petrochemical derivatives, polysorbates, dyes, mint and menthol.
Recommendations for use
Up to 5 uses per day.
Adults and young people over 12, pregnant and lactating women: 1 to 4 sprays per nostril
Children from 6 to 12 years old: 1 to 2 sprays per nostril
Children from 3 to 6 years old: 1 spray per nostril
Precautions for use
Keep away from light and heat and out of reach of young children.
Do not exceed the recommended dose and use within 30 days after the first use.
Unless therapeutic prescription, do not use for children under 3 years.