Herbal Hair Colour Powder 090 Brown Umber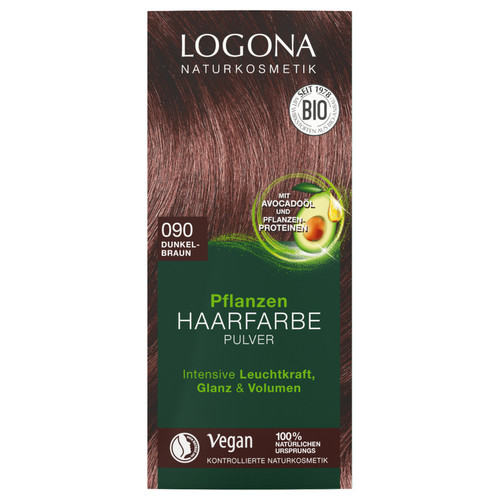 Logona
Herbal Hair Colour Powder 090 Brown Umber
Particularly suitable for medium blond to chestnut hair and gives the hair an intense dark chestnut tone.
---
Win 88 beez by buying this product
---
Internal Reference: LG091
Products Content: 100.0
Products Content Unit: G
Barcode: 4017645017771

Logona Herbal Hair Colour Powder 090 Brown Umber is particularly suitable for medium blonde to brown hair and colours it in an intense dark brown.
Herbal hair dyes are particularly gentle as they do not interfere with the natural structure of the hair, unlike chemical hair dyes, but covers each individual hair like a protective thin film of colour. Thus the initial hair colour determines the individual dyeing result.

Logona herbal hair colour powders are mixtures of finely ground, colouring plants, enriched for example by valuable avocado oil and nourishing plant proteins that lastingly care for the hair already during the dyeing process. The natural active ingredient supports a uniform colour acceptance.
Logona produces mild hair care with all-natural ingredients and innovative formulas, vegetable hair dyes without any synthetic additives. So Logona offers hair health, shine and smoothness.
INCI
Juglans Regia (Walnut) Shell Powder, Lawsonia Inermis (Henna)*, Indigofera Argentea Leaf Powder, Indigofera Tinctoria Leaf Powder, Cassia Auriculata Leaf Powder, Coffea Arabica (Coffee) Seed Powder*, Beta Vulgaris (Beet) Root Powder, Hydrolyzed Corn Protein, Hydrolyzed Wheat Protein, Hydrolyzed Soy Protein, Persea Gratissima (Avocado) Oil*, Algin, Leuconostoc/Radish Root Ferment Filtrate, Aqua (Water), Tocopherol, Helianthus Annuus (Sunflower) Seed Oil*
Ingredients
* ingredients from certified organic agriculture
Characteristics
Herbal Hair Colors really work differently.
Chemical hair colours aggressively remove natural pigments from the interior of the hair shaft, and replace them with synthetic dyes. In this way, the initial hair colour can be completely changed. However, since natural hair pigments have an influence on overall hair structure, repeated chemical colour treatments can make hair fragile and lifeless.
100% Herbal Hair Colors penetrate only into the outer, scaly layer of the hair shaft, giving a coating of colour over this outer layer. The natural hair pigments can, depending on the colouring way, shine through this colour layer so that the initial colour has an influence on the new hair colour.
Properties
Especially gentle colouration
Natural ingredients with extra care, nourishing avocado oil and plant proteins
Intense luminosity, gloss and volume
Long-lasting colour intensity
Recommendations for use
In the box: two 50g sachets of Herbal Hair Color, gloves, hood, instructions for use (in English, German and Swedish).
Before the first colouring you best test the cream on a lock of hair (see instructions). Bear in mind that the final result will be known only after about 48 hours
For optimal care and to intensify the colour, use the Logona (Pre-treatment Mineral Clay) and (Color Fix Post-Treatment
How to choose the right colour?
Logona offers on its website a straightforward procedure to answer this question.
Go to color finder "
Click on the natural colour of your hair: Hellblond = light blond, Mittelblond = medium blond, hellbraun = light brown, mittelbraun = medium brown, dunkelbraun = dark brown, Grau = gray
Click on the green button "Weiter"
Click on "Pulver" (powder) or "Creme" (Cream) depending on the product you want to use
Click on the green button "Weiter"
This last screen gives you a rough idea of ​​the colour of your hair after using the colouring cream or powder indicated on the images. Attention, these colours must be considered as a guide for you to chose between the various available colours but do not constitute a promise of the exact colour you will obtain. You can of course mix the powders or creams to obtain a still more personalised result.
Have fun but please take the time to look at
Logona herbal hair colour guide
on YouTube.
In principle, Logona herbal hair colours are suitable for colouring gray hair, but they can not be charmed away with the purely natural dyes. Due to their special nature, gray hairs are lighter than non-gray hair even after colouring. However, depending on the proportion of gray, there are very natural colournuances in the hair. As the herbal hair colours wrap around every single hair, the brighter (or the more gray) the hair is, the brighter the result will be. It is therefore sometimes unavoidable to dye several times to achieve the desired colour cover result.
Alternative Products: