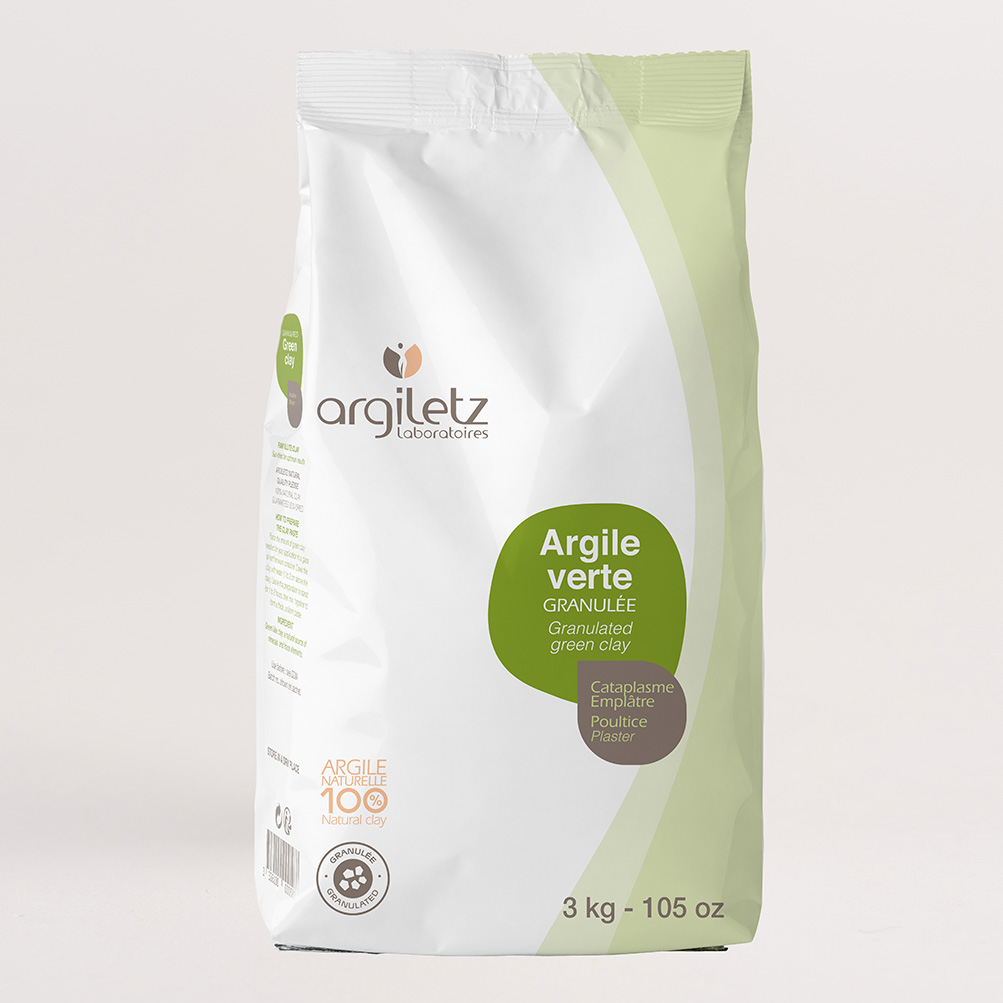 Green Clay granulated
---
Win 109 beez by buying this product
---
Internal Reference: AZ006
Products Content: 3.0
Products Content Unit: KG
Barcode: 3326100000588

Argiletz clay is exceptionally rich in rare minerals beneficial for your health and your well-being.
Granulated clay is a raw clay with 8mm granule size for faster preparation, compared to crushed clay. As a poultice or plaster, its rare minerals contribute to your body's well-being. It will bring an exceptionnaly comfortable and relaxing experience to your body.
Useful in all daily situations. For plaster and poultice, for face mask.
To know more about the uses and healing properties of clay.
ATTENTION. The Argiletz product's packaging does unfortunately not always correctly resist to shocks during shipping. Thus, it can happen that some clay is released from its container and contaminates its bag, box or some other products in the shipping box. We do our best, when packing your order, to minimize this risk but can no longer assume responsibility in case of leakage during shipping. In order not to deprive our customers of these quality clays we continue selling them on line but do not take responsibility for the damage resulting from the weakness of the original packaging.
Ingredients
raw green illite clay (100%)
Production
Raw sun-dried illite green clay.
Characteristics
- quality satisfying microbiological cleanliness thresholds according to the European Pharmacopoeia V.2.1.8
- 100% natural
- no artificial preservatives
- no irradiation
- not tested on animals
Recommendations for use
- Preparation of clay paste: pour the required amount of green clay in a glass or earthen container. Cover with water (1 to 2 cm). Leave it to stand for 1 to 2 hours. Mix carefully with a wooden spoon until the paste gets creamy and smooth.
- Plaster and poultice: apply the clay paste directly to the skin in a 1 to 2 cm thick layer and leave on for a maximum of 1 to 2 hours or apply the clay using a thin cloth. Place a 2cm thick layer of clay paste on the centre of the cloth, fold in the 4 corners of the cloth on top of the clay and apply this plaster directly to the desired area, In both cases, after the 2 hours, remove as much clay as possible and discard. Rinse off with lukewarm water.
Precautions for use
- Keep in a dry area.
- Keep away from freezing.
- Beware of pebbles or other small objects possibly caught caught in the clay grains and of clay dust which is always present even before opening the package.