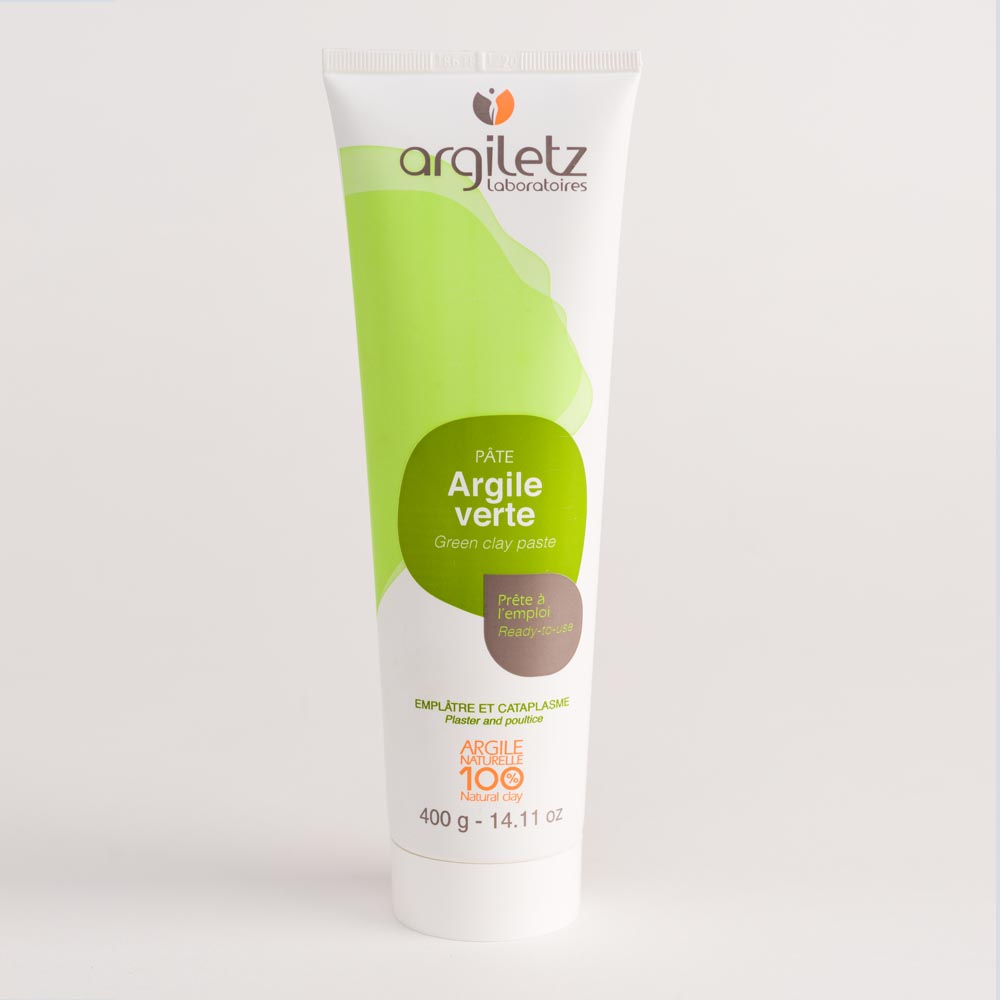 Green clay paste in tube
---
Win 100 beez by buying this product
---
Internal Reference: AZ003
Products Content: 400.0
Products Content Unit: G
Barcode: 3326100000038

Argiletz Green clay paste in tube ia a ready to use green illite clay paste, rich in rare minerals helpful for your body and carefully selected, that will suit all different uses: plasters, poultices, masks, hygiene, balneotherapy. Useful in lots of daily situations. Its unrivalled quality and authentic properties ensure optimum comfort.
To know more about the uses and healing properties of clay.
Ingredients
illite green clay (53%), water (47%)
Production
Raw sun-dried illite green clay.
Characteristics
quality satisfying microbiological cleanliness thresholds according to the European Pharmacopoeia V.2.1.8
100% natural
no artificial preservatives
no irradiation
not tested on animals
Recommendations for use
Plaster and poultice. Apply the clay paste directly to the skin in a 1 to 2 cm thick layer and leave on for a maximum of 1 to 2 hours. Or apply the clay using a thin cloth: place a 2cm thick layer of clay paste on the centre of the cloth, fold in the 4 corners of the cloth on top of the clay and apply this plaster directly to the desired area. In both cases, after the 2 hours, remove as much clay as possible and rinse off with lukewarm water.
Face mask: spread the clay paste in a thin layer (2 to 3 mm), leave on for 10 minutes. Do not allow the clay paste to dry. Rinse off with lukewarm water. Apply a Crème/fluide .
Hair mask: spread clay paste evenly over the scalp. Leave on for 10 to 15 minutes. Rinse, then use your regular shampoo.
For washing skin or hair dilute the pasta with hot water to a thick liquid paste, spread the mixture on the moistened skin or in the wet hair and massage gently. Let it work for a short time and then rinse thoroughly with warm water. Finally, dry and care skin or hair as usual. Huiles essentielles , or for dry hair a few drops of Huiles végétales , can be added to the paste.
Bath: dilute clay paste in the bath water. A few drops of essential oil may be added if desired. Relax for 20 minutes, then rinse with clear water. Your skin will feel wonderfully supple and soft. For dry skin use an hydrating Crème/fluide and/or BAOBAB Leg Lotion - Demeter .
Precautions for use
keep in a dry area
keep away from freezing