Fear of other people's eyes? Don't want to put yourself through a daily inconvenience? While you may be wondering if braces are still worth it at age 50 or older, Laurent Wajdenbaum, a leading orthodontist, gives us a smile.
Article written by the Fifty & Me Magazine
---
A beautiful smile has no age
Today, the advent of "invisible" orthodontic techniques makes treatment more accessible than ever. Both aesthetically and psychologically, the new generation of braces limits discomfort while offering excellent results.
Orthodontic corrections in adulthood can have a very significant effect on both our appearance and self-esteem, not to mention improving function and dental health. According to a study conducted by the American Academy of Cosmetic Dentistry:97.7% of adults believe that a beautiful smile is an important social benefit and 96% of adults believe that a beautiful smile makes you more attractive. While only half of adults are satisfied with their smile! However, many orthodontic problems can be easily treated in adults. In fact, the scope of orthodontic possibilities for an adult depends more on his or her general and oral health than on his or her age.
Laurent Wajdenbaum is formal: "Today, at 50, we are still in good health. It is therefore the right time to consider orthodontic treatment that will allow us to keep our real teeth for the rest of our lives. The best teeth are our own teeth, on all levels (comfort, feel, cleaning). They are the only ones to offer proprioception (the opposite of the wooden leg effect). Anecdotally, I have a 72 year old patient treated with platelets who doesn't understand why her friends don't do the same thing! When you are not comfortable with the smile you have, the satisfaction of orthodontic treatment is very high. Few people would have imagined such changes! Sometimes, complexes such as visible gums, a large nose or a receding chin are only an optical illusion because of jaws or teeth that are poorly placed.
At the same time, at age 50 and over, it is not uncommon to have a "mutilated" dentition by the extraction or loss of certain teeth. Teeth are more worn, or sometimes damaged, they may have tilted or migrated, while bone problems with loosening and/or gum disease are more common. These conditions can make treatment more complex. "He adds, "30% of adult cases would require surgery but fortunately there are compromises. 50 years old is an age when we can do heavier interventions. While waiting and postponing the moment to do so would bring us to an age where our health will not allow us implants, etc. Dental problems are therefore likely to become more pronounced. Loose teeth, periodontal disease and tooth wear can be prevented with proper orthodontic treatment. "Yes but... Which device to choose?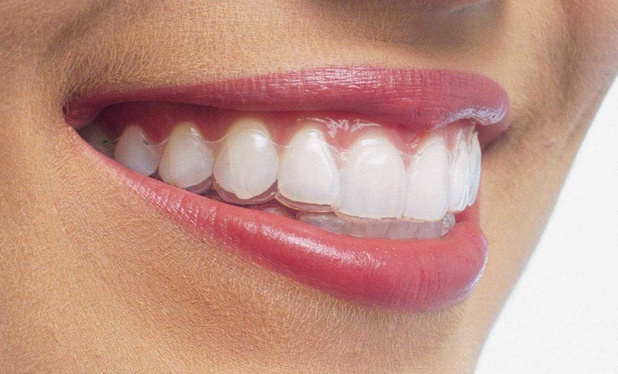 Invisible" braces: Incognito or Invisalign?
Transparent and removable gutters
[quote cite='Khadija']I had developed a complex because of my teeth. They were too forward. In other words, I hated to smile. I looked into the different treatment options and in my opinion, Invisalign was the right choice. Because they are almost invisible, I was able to go on with my life without being embarrassed, most people didn't even know I was wearing them. From start to finish, the treatment lasted 18 months. I wore the aligners every day and took them off to eat and drink. I just got my smile back![/quote]
The range of innovative treatments Invisalign corrects a wide range of dental alignment problems: spacing, crowding, overbites, underbites, etc. Thanks to a series of transparent and removable aligners, made to measure following a molding, your teeth move little by little to the final desired position. Unlike metal braces, aligners can be removed at any time (dinner, a date, or a business meeting) and put back on just as quickly, "as long as you wear them at least 20 hours a day for them to be effective. "says the orthodontist. The protocol consists of changing the model every two weeks, in order to adapt the forces delivered to the teeth as the treatment progresses. Another advantage? Unlike other braces, there are no dietary restrictions or cleaning constraints.
A lingual system that goes unnoticed
The dental appliance Incognito allows for discreet correction of tooth alignment. It is a fixed appliance, placed on the inside of the teeth, which makes it almost invisible from the outside. Almost any tooth positioning defect can be corrected at any age with this custom-made gold treatment solution.
I was very pleasantly surprised when I discovered the Incognito lingual system. My orthodontist has really done wonders. Now I can really smile with confidence. And to top it all off, after a few days, I had forgotten that I was wearing braces. My only regret is that I didn't find out about this treatment sooner[/quote].
An anti-aging solution?
Orthodontics is a long term treatment but it is worth it. It allows to ageing harmoniously. It's like a little facelift with a very natural result! It is sometimes difficult to imagine, but by aligning the teeth and/or correcting a malocclusion, a whole face is transformed.
As if by magic, the smile becomes rounder, the lips are redefined, the nasolabial folds fade away. Laurent Wajdenbaum insists on the link between the position of the teeth and the expression of the face: "When we are young, the skin, which naturally contains more collagen, will hide the position of the teeth whether it is more or less good. As we age and the soft tissues become thinner, the underlying hard tissues will express themselves more. And so the absence of teeth or teeth that are too far forward will mark us to the point of making folds appear or generating a sagging. This can be a real turn-off. "
Finally, and to help you make the right choice, Orthobello has the latest equipment to simulate the changes to come. Thanks to an amazing software, you will be able to visualize your before and after pictures in order to prepare yourself for the spectacular results!
They say that a smile is the most beautiful language! And you, are you satisfied with yours?