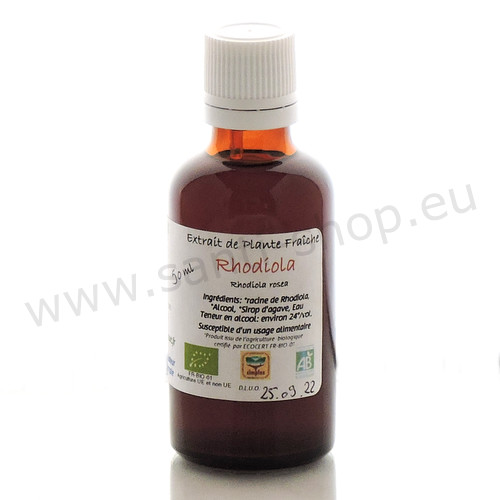 Ferme de Saussac
1
Rhodiola rosea tincture - organic
---
Manufacturer : Ferme de Saussac
Content: 50.0
ML
Reference: FD010


---
Win 75 beez by buying this product
Rhodiola rosea is an adaptogenic plant that promotes the body's response to different situations (e.g. stress, lack of energy, illness and convalescence, blood pressure or nervous tension). It is particularly effective for the management of stress and nervous balance, improves general state, physical and mental abilities, sleep, mild to moderate depression. A plant of well-being.
As Rhodiola supports both the needs of expenditure and recovery, it must be taken in moderation
Common names: golden root, rose root, rose(n)root, Aaron's rod, Arctic root, king's crown, lignum rhodium, orpin rose, Rosavin, Rhodiola Rhizome, Rhidola.
Latin name
Rhodiola rosea, synonyme Lignum rhodium
Ingredients
Rhodiola hydroalcoholic extract 100% (Rhodiola* root, alcohol*(24%), agave syrup*, water) * ingredients from certified organic agriculture
Origin
Italy
Characteristics
The active compounds of rhodiola would mainly be polyphenols and antioxidants. The most active ones would be rhodiolosids and tyrosol, inactive when administered alone, but showing a synergistic effect when combined with other elements of rhodiola.
Properties
adaptogen and antidepressant, offers a feeling of well-being and being onl form
improvement of stress resistance
improvement of mental performance (especially memory and the ability to concentration and attention, after four weeks of supplementation), allows to be be quickly alert and have good reflexes
anxiolytic
improvement of muscle strength, of physical abilities and performances
anti-inflammatory and antioxidant
immunostimulatory
antidiabetic
liver protection
antiangiogenic (against angiogenesis, i.e. against formation of blood vessels irrigating a cancerous tumor)
(main source: http://www.wikiphyto.org/wiki/Rhodiola_rosea)
Traditional use
Asthenia, fatigue, depression
Stress, anxiety
Lack of sleep due to stress
Memory decline
Glycemic imbalances, pre-diabetes states
In anticipation of sports performances
Searching adaptogenic effects
Headache, muscle and joint pain
Sarcopenia (muscle wasting, loss of strength due to age)
Maladie de Lyme (contre la fatigue y associée)
Parkinson's disease and senile dementia (potential)
(Main source: http://www.wikiphyto.org/wiki/Rhodiola_rosea)
Recommendations for use
About 1 teaspoon or 25 drops in a glass of water 1 to 2 times a day on an empty stomach in the morning and, if necessary, 30 minutes before midday meal. Decrease dosage when excited, then increase gradually. Russian tradition recommends taking for 10 to 20 days, followed by 2 weeks without before taking again if necessary. Others recommend 7 days of taking followed by 7 days without before taking again if necessary.
A stressed and sleep-deprived person can find restful sleep with a few days cure of rhodiolia.
Usage of rhodiola as a daily preventative against fatigue has been reported to be effective in very low doses.
Precautions for use
Rhodiola rosea should be taken early in the day as it may interfere with sleep.
At the recommended dosages there is no known side effect (the abuse could cause extreme weariness and dizziness) but as a caution rhodiola is not recommended for pregnant or breastfeeding women, and for children as well as for people under medical treatment.
This is a preview of the recently viewed products by the user.
Once the user has seen at least one product this snippet will be visible.
Recently viewed Products