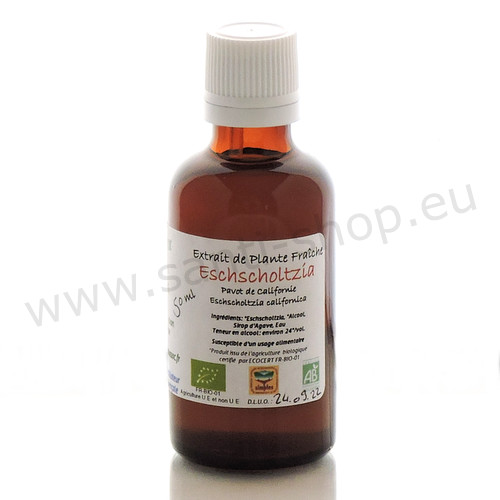 Ferme de Saussac
1
Eschscholtzia tincture - organic
---
Fabriquant: Ferme de Saussac
Contenu: 50.0
ML
Référence: FD009
---
Win 78 beez by buying this product
Latin name
Eschscholtzia californica
Ingredients
Eschscholtzia hydroalcoholic extract 100% (Eschscholtzia*, alcohol*(24%), agave syrup*, water) * ingredients from certified organic agriculture
Characteristics
Eschscholtzia belongs the Papaveraceae family(opium source) but is not addictive and does not cause inurement.
Papaveraceae often contain many alkaloids (such as the opium poppy or poppy). Eschscholzia also but its roots contain much more of them than the aerial parts (respectively 2% to 3% and 0.5%). The most important eschscholtzia alkaloids have been studied by pharmacologists and do not appear to have any significant toxicity except for Sanguinarin, but this is only present as a trace in the aerial parts (unlike the roots). (main source: http://www.wikiphyto.org/wiki/Rhodiola_rosea)
Properties
anxiolytic at low dose (approximately 25mg dry plant per kg body weight), sedative at higher doses (100 to 400 mg / kg)
hypnotic
induces sleep, decreases falling asleep delay and prolongs sleep time
antispasmodic (or spasmolytic: suppressing spasms (abnormal and involuntary muscle contractions)
calming, relaxing and analgesic by action on encephalins, recommended in pediatrics
Useful for withdrawal (alcohol, tobacco and other drugs)
(main source: http://www.wikiphyto.org/wiki/Eschscholtzia)
Traditional use
sleep disorders (children and adults): difficulty falling asleep, anxiety, multiple night-time awakenings, insomnia in the early morning, non-restorative sleep, nightmares (especially in children), insomnia during menopause...
headache and toothache, in external use
neuropathies, psychic and physical disorders in children
stress, anxiety, nervousness and agitation leading to sleep disturbances
nocturnal incontinence, especially in children
cramps and muscle spasms accompanying sleep disorders
(main source: http://www.wikiphyto.org/wiki/Eschscholtzia)
Recommendations for use
Internal use: 15 to 30 drops, one to three times a day as needed or 30 minutes before bedtime
External use: several times a day, apply locally with a coton bud or leave a drop where needed, or apply a soaked pad to the area to be treated.
Precautions for use
Some people noticed a certain torpor after taking eschscholtzia. For sensitive people it is therefore advisable to take it only in the evening, to avoid taking alcohol during treatment (because it increases the sedative effect) and not to associate eschscholtzia with other tranquillizers. In case of torpor avoid having to perform an activity requiring concentration and sustained attention (driving for example).
Contraindicated in pregnant and breastfeeding women (because of the presence of certain alkaloids)
This is a preview of the recently viewed products by the user.
Once the user has seen at least one product this snippet will be visible.
Recently viewed Products