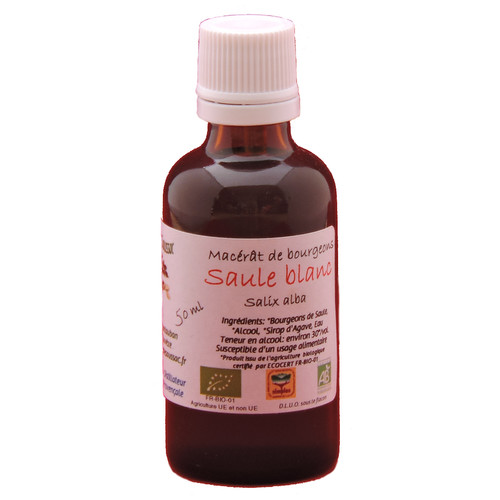 Ferme de Saussac
1
White willow bud extract - organic
---
Fabriquant: Ferme de Saussac
Contenu: 50.0
ML
Référence: FD008
---
Win 193 beez by buying this product
White willow bud extract, gemmotherapy herbal remedy, is useful in convalescences and states of fatigue, also has a beneficial action on the nervous system (sedative, calming, rebalancing), venous and cerebral circulation, and blood hyper-viscosity (does not fluidify the blood as synthetic aspirin).
Latin name
Salix alba
Ingredients
White willow* buds (Salix alba), Alcohol* (24%), agave syrup*, Water * ingredients from certified organic agriculture
Production
Based on fresh buds, harvested in forests or grown organically
Properties
anti-pain, sedative, soothing and relaxing
beneficial action on venous blood circulation
beneficial action on blood hyper-viscosity and cerebral blood circulation
Traditional use
anxiety, hysteria
insomnia
in association with willow catkins: various neuro-sexual disorders (onanism, priapism, genital erethism)
dyspepsia, nervous gastritis, nervous digestive disorders
Veno-lymphatic insufficiency (heavy legs, edema, water retention, hemorrhoids)
states of fatigue, convalescence
Recommendations for use
Take the drops 1/2h before meals, 2 to 3 times per day, pure or diluted in source water or honey. For an optimum result, put them directly on the tongue and wait for a few seconds before swallowing.
Adults: Start with 5 drop a day, gradually increase the dosage (1 drop per day) until stable result, maximum 15 - 20 drops a day. For preventive cure mostly 5 to 10 drops a day, otherwise, after having obtained the desired result, keep the same number of drops until the end of the cure.
Generally a cure of 3 weeks minimum is recommend, if necessary renewed 3 times, with a week off between each cure. Correct dosage to be confirmed by your therapist.
This bud macerate is concentrated and 50 ml allow a cure of 70 days at 10 drops per day.
Precautions for use
Keep away from children.
No specific contra-indication but in case of allergy to aspirin the same reactions can occur with willow.
Pregnant ladies should not take gemmotherapy products with hormonal action like raspberry, bilberry, giant redwood (or sequoia), oak.
This is a preview of the recently viewed products by the user.
Once the user has seen at least one product this snippet will be visible.
Recently viewed Products