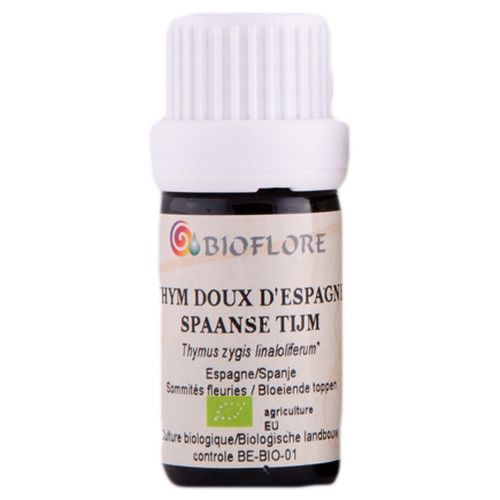 Thyme, sweet from Spain essential oil - organic
1
---
Contenu: 5.0
ML
Référence: BF075
---
Win 74 beez by buying this product
This essential oil of Sweet Thyme linalol is still better tolerated than that of Vulgar Thyme linalol (Thymus vulgaris linaloliferum). It is remarkably neurotonic, stimulates general vitality especially for those who lack it due to compromised immunity, and increases resistance against external infectious aggression (immunostimulant). In a diluted form it improves the skin's healing function and as a vapour it purifies the air and has a soothing influence on the airways and the throat.
This HE helps to develop an emotional balance and is well suited to people (particularly children) whose development is hindered by poor health and the difficulty of relating with others.
Latin name
Thymus zygis linaloliferum
Origin
Spain
Production
- 100% pure and natural
- from certified organic farming
Characteristics
- Smell: a medicinal, warm, herbal fragrance
- This essential oil of Spanish Thyme linalol is still better tolerated than that of Vulgar Thyme linalol (Thymus vulgaris linaloliferum) because it contains because it contains less linalool, other terpenols of excellent reputation (terpinene-4-ol, thujanol, borneol, geraniol) are present and phenols are in minority. It is sometimes considered the best possible alternative to the high demanded thujanol Thyme which is always not very available.
Properties
- powerful general antiseptic
- antiviral and antibacterial
- antifungal (candida albicans)
- vermifuge (tapeworm (taenia, tenia), ascarid (maw-worm, roundworm), pinworms), oxyures (pinworms))
- tonic, neurotonic, uterotonic, aphrodisiac
Traditional use
- bronchitis, pharyngitis, tuberculosis, cough
- candida stomatitis, gastritis, bacterial and candidal enterocolitis, parasitic colitis
- urinary tract (cystitis, urethritis) and gynecological infections (vaginal candidiasis, prostatitis, vaginitis)
- nervous and brain fatigue, convalescence
- mycoses and infectious dermatoses, psoriasis, warts
Precautions for use
- not for use by pregnant women
- not for use by children under 5 years old
Warning
: the above information is taken from serious books but should only be considered as preliminary information in a discussion with your doctor or aromatherapist
This is a preview of the recently viewed products by the user.
Once the user has seen at least one product this snippet will be visible.
Recently viewed Products