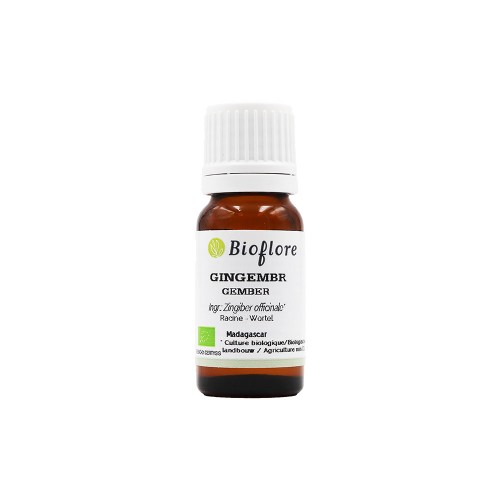 Bioflore
1
Ginger essential oil - organic
L'huile essentielle de gingembre soulage les douleurs musculaires et articulaires. Elle est digestive, stomachique et carminative.
---
Fabriquant: Bioflore
Contenu: 10.0
ML
Référence: BF013
---
Win 91 beez by buying this product
Ginger essential oil, because of its anti-inflammatory and analgesic properties, relieves pains and contributes to maintain the flexibility of muscles and articulations. Its tonic digestive action makes it aperitive, stomachic, carminative, transit regulating and even anti-emetic. It has a fresh, penetrating and peppery aroma, can be used in massage, diffusion, bath and kitchen.
At psycho-emotional level it is recommended to warm the heart, lighten the mind, act positively on mood, remove blockages and inhibitions. In Eastern traditions, it is reputed to be a powerful overall tonic and an aphrodisiac.
Ginger rhizome, native to India, China, Madagascar, has been used as a spice and remedy since ancient times. Its essential oil is of quite varied composition. The opinion of Bioflore: Sri Lanka is a "big island" that offers quality essential oils and that of ginger, with well dosed root and a spicy notes, is a good compromise between the lighter Malagasy and the sometimes overly earthy Chinese qualities.
Latin name
Zingiber officinale
Origin
Sri Lanka
Production
essential oil qualified "100% pure and natural"
Characteristics
Smell: a fresh, warm, wooden fragrance
Properties
stimulant, sexual tonic, aphrodisiac
digestive system tonic
aperitive, stomachic, carminative, mild laxative
analgesic, anti-inflammatory
antitussive, antispasmodic
Traditional use
sexual fatigue, impotence, frigidity
painful digestion, lack of appetite, flatulence, constipation
rheumatism, aches and muscle aches
dental abscess, odontalgies
chronic bronchitis, catarrh
Recommendations for use
Dilute to a maximum of 20% for skin applications. In the kitchen, as this oil is very concentrated in aromatic molecules, a drop is often enough to flavour a dish (fish, sauce, dessert, gingerbread).
Precautions for use
not for use by pregnant women or for children under 6 years
dermocaustic, possible irritation if used in a pure state
avoid intense exposure to sunlight after use
Warning
:
The above information is taken from serious books but should only be considered as preliminary information in a discussion with your doctor or aromatherapist.
The vast majority of essential oils are to be used only diluted in a vegetable oil, honey or other suitable medium respecting the recommended dosages.
When using an essential oil for the first time on the skin, always make a test on the inner sied of the elbow to make sure it does not cause any allergic reaction.
As essential oils are volatile, sensible to UV radiation and inflammable at high temperature, it is imperative to store them in a tightly closed dark glass bottle and at a temperature between 5 °C and 40 °C.
This is a preview of the recently viewed products by the user.
Once the user has seen at least one product this snippet will be visible.
Recently viewed Products