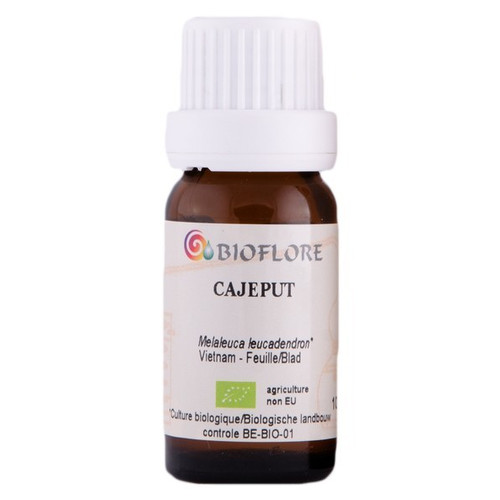 Bioflore
1
Cajeput essential oil - organic
L'huile essentielle de cajeput est utile pour affronter l'hiver avec sérénité. Elle aide à combattre les refroidissements et les infections diverses de cette saison. En cosmétique, elle purifie la peau et le cuir chevelu.
---
Manufacturer : Bioflore
Content: 10.0
ML
Reference: BF004

---
Win 31 beez by buying this product
Cajeput essential oil is very similar to niaouli and, as powerful general antiseptic, is particularly useful in respiratory diseases but its cleansing, regenerating and tonic skin properties also indicate it als in skincare. Diluted cutaneous application is the most recommended method of use.
As Cajeput is circulatory tonic and venous decongestant it is found in cares for heavy legs and, for its anti-pain effects, in rheumatic cares.
Calming, stimulating and the central nervous system balancing it is also useful in situations of stress, anxiety, fatigue, disturbed concentration or sleep.
Latin name
Melaleuca leucadendron
Origin
Viet Nam
Production
essential oil qualified "100% pure and natural"
Characteristics
Scent: mild, fresh and light
Properties
General antiseptic (pulmonary, intestinal, urinary)
Expectorant and anticatarrhale
Antiviral and antibacterial
Antispasmodic and neuralgic
Radio protective
Astringent
Skin tonic
Phlebotonic
Traditional use
Catarrhal respiratory infections
Varicose veins, hemorrhoids, varicose ulcers
Skin lesions due to radiotherapy (radiation dermatitis)
skin problems (blisters, boils, cold sores, cold or burned skin, acne, eczema, itching, psoriasis, mycosis ...) also herpes, zoster (shingles), chickenpox
Dental and ear neuralgia
Rheumatic Neuralgia.
Recommendations for use
External use: diluted on the skin or in the bath, air diffusion. Dilute 2 to 5 drops of essential oil in 10 ml of vegetable oil and use in massage or local application on the skin zone(s) to be treated. In the bath : dilute the essential oil in a neutral base and add to the bath water.
Heavy legs: massage the legs from the bottom to the top
ENT and respiratory infections: massage the upper back and the arch (also internal use, on the advice of a specialist).
Otitis: 1 drop behind each ear.
Arthritis, osteoarthritis, joint and muscle pain, rheumatism: skin massage at the painful area(s)
Bacterial or viral infection: massage back, spine, wrists, arch, and/or areas to be treated (shingles, herpes). Use also in olfaction or diffusion.
Fatigue: massage back, spine, wrists, arch and/or olfaction.
Anguish, anxiety, nervousness, stress: olfaction, diffusion and/or massage of the back or add to the bath water.
Difficult concentration, difficult sleep: olfaction
Internal use: 2 to 3 drops, 2 to 3 times a day in honey or in olive oil on the advice of a specialist (genital or urinary infection, flu, ENT and respiratory infections).
Precautions for use
Avoid in pregnant or breastfeeding women and, especially in inhalation or diffusion, people prone to asthma. Can be used in children from 3 years on. In atmospheric diffusion, pure or diluted, pregnant or breastfeeding women, children and babies can benefit from it.
Warning
:
The above information is taken from serious books but should only be considered as preliminary information in a discussion with your doctor or aromatherapist.
The vast majority of essential oils are to be used only diluted in a vegetable oil, honey or other suitable medium respecting the recommended dosages.
When using an essential oil for the first time on the skin, always make a test on the inner sied of the elbow to make sure it does not cause any allergic reaction.
As essential oils are volatile, sensible to UV radiation and inflammable at high temperature, it is imperative to store them in a tightly closed dark glass bottle and at a temperature between 5 °C and 40 °C.
This is a preview of the recently viewed products by the user.
Once the user has seen at least one product this snippet will be visible.
Recently viewed Products