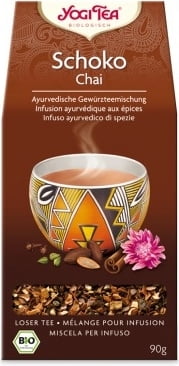 Yogi Tea
1
Infusion Choco Chaï - Bio
Ayurvedic Spice Infusion for Chocolate Lovers
---
Manufacturer : Yogi Tea
Content: 90.0
G
Reference: YT006
---
Win 40 beez by buying this product
A delicious warming blend of chai spices and cocoa seed peels, YOGI TEA® Choco Chai has been a favorite for years. Cocoa blended with sweet licorice, cinnamon, spicy ginger and cardamom gives an almost heavenly infusion. Relax, take a sip and breathe in the wonderful aroma of chocolate. Enjoy it sweet and with a cloud of milk or milk substitute. The subtle message of this infusion is: "Delicious indulgence".

The cocoa tree native to the rainforests of Latin America is particularly well known for its beans - the raw material for chocolate.

The bark of the cocoa bean has such a mild and sweet taste, while containing far fewer calories.

Cinnamon was one of the most expensive spices in the world and is said to have been used as a spice in China as early as 3000 BC.

Cinnamon, obtained from the bark of the South Asian cinnamon tree, is characterized by a sweet and aromatic flavor and contains precious essential oils.

Cardamom has been the most popular spice in Asia and Arab countries for thousands of years. Its subtle aroma, both sweet and pungent, makes cardamom indispensable in a multitude of dishes ranging from curries to spicy Christmas cookies.

Whether used in Christmas cookies, in curries or as lemonade: bulbous ginger is one of the most famous aromatic plants worldwide. Cultivated for thousands of years in tropical conditions in East Asia, it adds fruity, pungent, aromatic and spicy flavors to many YOGI TEA® varieties.

The chicory, which is best planted along paths and characterized by its blue flowers, is also known as "ugly" because of its stunted appearance. The flowers of this plant native to Europe, Northwest Africa and Western Asia belonging to the Asteraceae family are open only from dawn to noon. Its root is characterized by a spicy and bitter taste and gives mixed herbal infusions a note of coffee - caffeine-free.

Add 2 teaspoons (2.6g) to 1 liter of boiling water and simmer for 10 to 15 minutes.

Add hot milk and sweeten to your liking.

Store in a cool, dry place.

Cocoa peel*, cinnamon*, cardamom*, ginger*, roasted chicory*, cloves*, black pepper*.



This is a preview of the recently viewed products by the user.
Once the user has seen at least one product this snippet will be visible.
Recently viewed Products