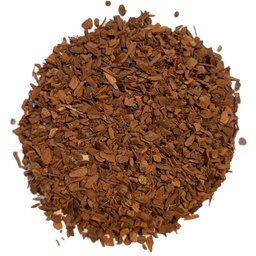 Cinnamon of Ceylon powder - organic
1
---
Contenu: 1.0
KG
Référence: SP124
---
Win 294 beez by buying this product
Ceylon cinnamon is highly appreciated for its perfumed taste, also for its antimicrobial properties and richness in potentially health beneficial antioxidants (their concentration is such that even a small portion of cinnamon can make a significant contribution to the total daily intake).
Since centuries Cinnamon is a spice used to prolong food preservation. A property consolidated by recent studies that have shown that cinnamon can hinder the multiplication of several microorganisms thanks under others to-its richness in cinnamaldehyde, a volatile phenolic compound with antioxidant power. Moreover an in vitro study has shown that cinnamaldehyde has the ability to decrease the activity of an enzyme (5-lipoxygenase) associated with the occurrence of inflammatory or allergic reactions (asthma, allergic rhinitis, psoriasis ...). On the other hand several studies indicate that cinnamon can decrease, even regulate (the lipid combustion is activated), blood glucose and certain blood lipids (triglycerides, LDL and total cholesterol) in a few months. 1g to 3g daily are sufficient (1g corresponds to approximately one half to one teaspoon cinnamon ). Cinnamon is thus a spice with promising effects in type 2 diabetes, allergies, bloodfat problems.
Cinnamon is much used in the kitchen for both raw and cooked, sweet and salty dishes. Note that it is better not to add the cinnamon powder before the end of cooking, because it becomes bitter when too long cooked.
N.B. New arrival of Ceylon cinnamon in various packaging half-2017.
Latin name
Cinnamomum verum, Cinnamomum ceylandicum
Characteristics
Characteristic, very aromatic sweet odour. Characteristic aromatic flavour.
Recommendations for use
Cinnamon is well known as a spice for punches, can also be added to muesli, tee, cocoa, desserts, compotes. Honey and cinnamon form a synergy because they appear to reinforce each others action when taken together. A cup of warm water with cinnamon and honey: a good remedy against coughs and colds.
Add cinnamon at the end forcooking.
Precautions for use
Cinnamons contain coumarin, toxic in high doses, and it is because of its coumarin content that cassia cinnamon (or cinnamon of China) consumption is advised to stay below 2 teaspoons a day. Cinnamon of Ceylon however contains significantly less coumarin than cinnamon cassia (0.02g of coumarin per kg for Ceylon cinnamon, 2g of coumarin per kg for cinnamon cassia) and can therefore be more largely consumed without apprehension.
This is a preview of the recently viewed products by the user.
Once the user has seen at least one product this snippet will be visible.
Recently viewed Products