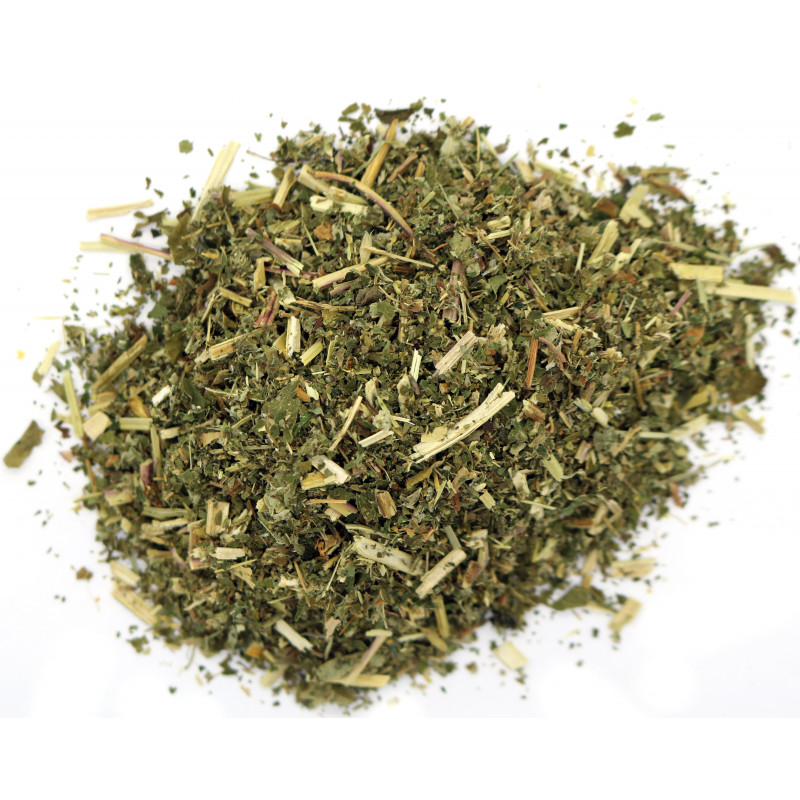 Galke
1
Meadowsweet - organic
---
Manufacturer : Galke
Content: 5.0
KG
Reference: SP121

---
Win 679 beez by buying this product
Meadowsweet has a slightly bitter, characteristic, herbaceous flavour. Meadowsweet plays an important role in the elimination of water in tissues (and also in their tightening), has a granted ability to absorb toxins (causes of cellulite and rheumatism) and to calm neuralgia and migraines thanks, among others, to its salicylic compounds. These compounds have an as well soft as progressive and well tolerated anti-inflammatory and analgesic action which make that meadowsweet, like willow, are considered as "vegetable aspirin" but with the benefits of aspirin without its drawbacks.
Meadowsweet has also been referred to as Queen of the Meadow, Pride of the Meadow, Meadow-Wort, Meadow Queen, Lady of the Meadow, Dollof, Meadsweet, Mead Wort and Bridewort.
Latin name
Spirea ulmaria
Ingredients
meadowsweet* * from certified organic agriculture or certified organic wild
Origin
Poland
Production
Despite the care taken during the production process to mechanically remove foreign material, there may still remain some. It is therefore recommended to make a visual control, and if necessary a sorting, before any use.
No refund request in relation with foreign material will be accepted.
Characteristics
Slight aromatic flowery smell, characteristic of sSlight aromatic flowery smell, characteristic of salicylated derivatives. While the pure salicylic acid, as found in aspirin, as side effects, a fluidifying effect on the blood (anti platelet aggregation) and an ulcerogenic effect on the gastric mucosa has, it seems that the combination of salicylates, tannins and other constituents of the plant protects against these side side effects.
It is rather the dried plant that is used in herbal medicine because when it is fresh, it does not seem to have all of its potential properties.
Properties
anti-inflammatory
analgesic
astringent (leaf and root)
choleretic
diuretic (eliminates urea, uric acid, chlorides)
febrifuge
sudorific
heart and gastric tonic
sedative, promotes sleep
vulnerary (healing of wounds by external use)
Traditional use
atherosclerosis
cellulitis, dropsy, edema, oliguria, hydarthrosis, ascites (fluid retention),..,
stomach laziness, stomach ulcer
urinary lithiasis
biliary insufficiency
arthritis, rheumatism, gout
diarrhea (especially foils)
wounds, stings
headaches, migraines, neuralgia
Recommendations for use
Never boil!
Internal use: pour 1 dessert spoon of cut plant in 1 cup of almost boiling water (about 80 ° C), infuse 10 minutes and strain. 3-5 cups a day between meals. One can also simply chew a small amount of plant or grind or mill (in a coffee grinder for example) some and regularly take a pinch of this between meals.
For cellulite: Pour 1/4 liter of almost boiling water on 1 tablespoon of plant, let soak overnight and drink when awaking.
External use: 2 handfuls of plants per liter of almost boiling water, let infuse 15 minutes. As hot applications on rheumatism, compresses on wounds and ulcers.
Dried leaves and flowers, enclosed in small cloth bags placed in wardrobes, perfume the linen and repel moths.
Precautions for use
Contraindicated in case of allergy or sensitivity to salicylate derivatives. Caution for people taking anticoagulants.
Store in a cool and dry place, away from light, in well closed packing.
This is a preview of the recently viewed products by the user.
Once the user has seen at least one product this snippet will be visible.
Recently viewed Products