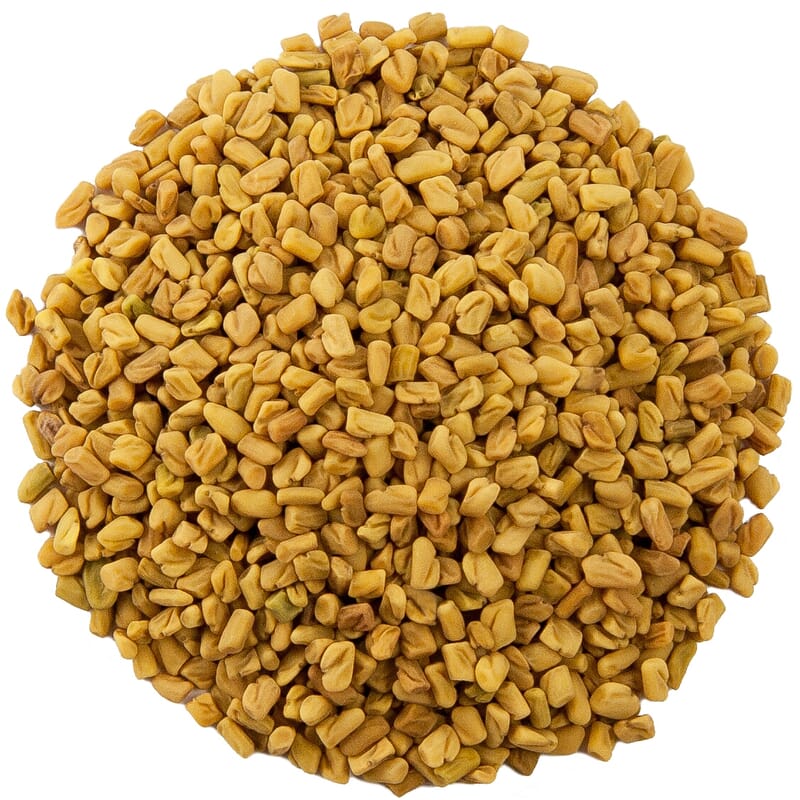 Galke
1
Fenugreek seeds- organic
---
Manufacturer : Galke
Content: 1.0
KG
Reference: SP060

---
Win 136 beez by buying this product
Fenugreek seeds are a spice that is among the oldest medicinal and culinary plants in the history of humanity. They are a common ingredient in dishes from South Asia and in Egypt and India they are still used in bread making. In phytotherapy they are used for their aperitif, digestive, toning and anti-diabetic properties.
Fenugreek seeds give off a characteristic aromatic odor, especially crushed. Their taste is spicy, slightly bitter.
Latin name
Trigonella foenum-graecum
Ingredients
Sundried at about 30°C
Origin
Egypt
Production
Despite the care taken during the production process to mechanically remove foreign material, there may still remain some. It is therefore recommended to make a visual control, and if necessary a sorting, before any use.
No refund request in relation with foreign material will be accepted.
Characteristics
Fenugreek seeds have a high fiber (50%) and saponins content (hence their anti-diabetic action and the reduction of bad cholesterol and triglycerides?), are rich in proteins (30%) and mucilages, also minerals, vitamins and antioxidants. They contain, in particular, 4-hydroxy-isoleucine, an amino acid which is specific to fenugreek (and totally absent in mammals), which in animals stimulated the production of insulin and improved the sensitivity of the organism to this hormone, and also reduced blood cholesterol and triglyceride levels.
Fenugreek contains the amino acid histidine that would counteract liver damage.
A study showed a significant improvement in some Parkinson's sympytoms by treatment with fenugreek extract.
Properties
helps control glucose levels and blood lipids in people with diabetes
stimulates apetite
fortifies convalescents, anorexics, anemic or depressed people
treats gastritis and certain digestive disorders
stimulates uterine contractions (facilitates delivery) and lactation (is galactogenic)
as poultice: heals wounds, leg ulcers, gout, muscle aches, boils and eczema (anti-inflammatory action)
Traditional use
diabetes
lack of energy
gastritis, digestive disorders
childbirth, breastfeeding
wounds, leg ulcers, gout, muscle pain, boils, eczema (poultices)
Recommendations for use
The seeds are edible as such but are very hard raw and for salads they are rather used soaked, sprouted, ground or crushed. They can also be lightly cooked. For those who do not like their flavour, mixing the seeds among other spices easily camouflages their taste.
Cold infusion: soak 1 tablespoon fenugreek seeds in 250ml of water for a few hours or a whole night before drinking it in the morning. The resting seeds can be chewed ore used to germinate, or thrown on the compost.
To stimulate the appetite: 500 mg to 1 g of ground seeds, up to 6 times a day
Poultry: mix 50 g of ground seeds with 1 litre warm water (because of the mucilaginous nature of the seeds, a paste will form quickly) and apply as a poultice on the affected parts
Bath: mix 50 g of grounded seeds with 250 ml water and dilute this preparation in the water of the bathtub.
Precautions for use
Fenugreek is known to induce contractions. It can lead to premature labor and even miscarriage if consumed in large quantities. As a rule of thumb, when pregnant, it is recommended not to exceed one teaspoon of ground fenugreek seeds a day.
Some people are allergic to fenugreek and people who have peanut allergy and chickpea allergy may have a reaction to fenugreek.
There is a risk of hypoglycemia particularly in people with diabetes; fenugreek may interfere with the activity of anti-diabetic drugs.
Fenugreek seeds can cause (temporary ) diarrhea, dyspepsia, abdominal distention, and flatulence because of their high fibre content. When using more than 4g a day heavy detox-reactions can appear, in this case the daily quantity should be lowered and only prudently again increased.
This is a preview of the recently viewed products by the user.
Once the user has seen at least one product this snippet will be visible.
Recently viewed Products