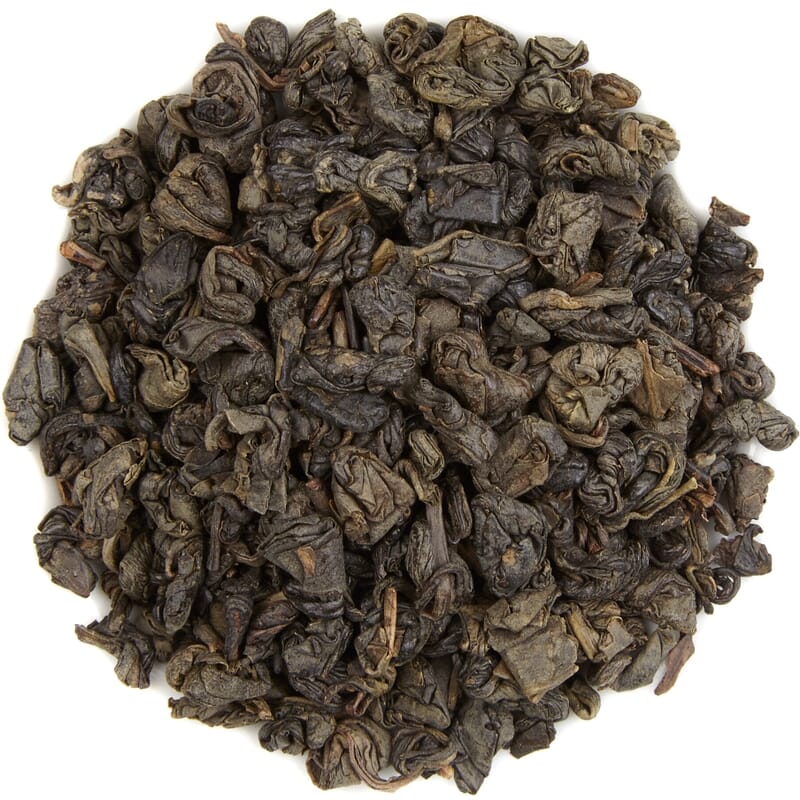 Galke
1
Gunpowder green tea, leaf - organic
---
Manufacturer : Galke
Content: 500.0
G
Reference: SP053

---
Win 131 beez by buying this product
Gun Powder Green Tea has a pleasantly spicy, subtly bitter taste. Very used for mint tea in the Moroccan ritual, it is one of the most famous tea varieties. Its leaves are rolled and shaped into balls, hence its name, and give a green tea very rich in theine.
Green tea, more than the (by fermentation oxidized) black tea, is known to be beneficial to health and gives a pleasant and stimulating drink, ideal for activity, whether physical or intellectual. Its regular consumption contributes to good health and the prevention of certain diseases. Note that Sencha green tea, although moderately rich in theine, seems to offer the highest concentration of epigallocatechin, a very powerful antioxidant.
Origin
China
Production
CO2 disinfestation
Despite the care taken during the production process to mechanically remove foreign material, there may still remain some. It is therefore recommended to make a visual control, and if necessary a sorting, before any use.
No refund request in relation with foreign material will be accepted.
Characteristics
All teas contain 3 kinds of xantines: theine, theophylline and theobromine, the main being theine, but the content varies according to, among other things, the harvest season.
Theine, a molecule similar to that of caffeine, is present in green tea at a rate of 2 to 2.5%, depending on the variety. Theine is a stimulant that, thanks to the synergy with other green tea compounds, stays in the blood for 6 to 8 hours. So it provides a more sustainable energy (allows to stay awake and focused without being excited) than black tea or coffee, known for its more lively, but ephemeral effect.
Theophylline, present in much less quantity, has an action essentially as vasodilator (dilates veins and coronary arteries and improves the bloodflow, hence the "refreshing" properties of tea) but also stimulates the respiratory functions.
Theobromine, present in even smaller quantities, has a powerful diuretic action (activates the renal circulation and thus promotes elimination through the urinary tract).
Green tea contains catechin polyphenols, including EGCG (epigallocatechin-3 gallate) which is a very powerful antioxidant and enhances the effectiveness of the appetite control hormones (Sencha green tea would contain the greatest concentration of it). The antioxidant activity of green tea flavonoids fights the effects of active oxygen derivatives (from normal bodily functions) that contribute to aging and chronic disease.
It is also worth noting that theine increases the basic metabolism (calories used at rest), the tannins slow down the assimilation of fat and catechins change their distribution and fight their (dangerous!) accumulation in the belly.
Properties
excellent for memory, planning and executive functions
coulc protect against degenerative diseases (eg Alzheimer's and Parkinson's) and age-related memory loss
helps reduce bad cholesterol and lower blood pressure and heart risks
in addition to a healthy and balanced diet, helps maintain, see loose, weight
antibacterial and antiviral properties
stimulating
contains essential oils, mineral salts (rich in potassium, very little sodium) and vitamins (A, B) et des polyphenols (antioxidants 20 times more potent than vitamin E) that protect against and delay the damage of aging
has a basic pH so helps to regulate the over-acidification of the body
stimulating, invigorating and soothing effect on the skin, improves the appearance of acne skin
strengthens the hair
Traditional use
memory losses
overweight
rheumatoid arthritis
respiratory diseases (colds, bronchitis, pneumonia, influenza ...)
over-acidification of the body
general fatigue and migraine
skin aging
Recommendations for use
About 1 teaspoon per 1 cup of water at 50-60 ° C, let infuse 2 minutes, sieve and drink within 10 minutes.
To keep a maximum of theine, limit the infusion time (no more than two minutes), otherwise there is release of tannins that neutralize the theine action.
Thein-rich or -moderately-rich green teas, such as Gun Powder or Sencha, should be drunk in the morning.
To reduce the stimulating action (which could cause in sensitive people a slight tendency to insomnia), without affecting the flavor: first rinse the leaves in simmering water during thirty seconds, sieve and eliminate this first extraction.
Precautions for use
Since green tea can reduce the absorption of dietary iron and folic acid (vitamin B9) during 30 minutes after ingestion, it is recommended to consume green tea at least 40 minutes before or after a meal.
For all types of green tea it is advisable to consume good quantities of fresh water in parallel.
When green tea is prepared at a watertemperature exceeding 60 ° C and an infusion of more than 2 minutes it is recommended to consume it in short cures. Otherwise it can be consumed almost daily all year round.
Consider a fairly high concentration of oxalates in green teas.
Consult your therapist if you have stomach or kidney diseases before consuming green tea.
This is a preview of the recently viewed products by the user.
Once the user has seen at least one product this snippet will be visible.
Recently viewed Products