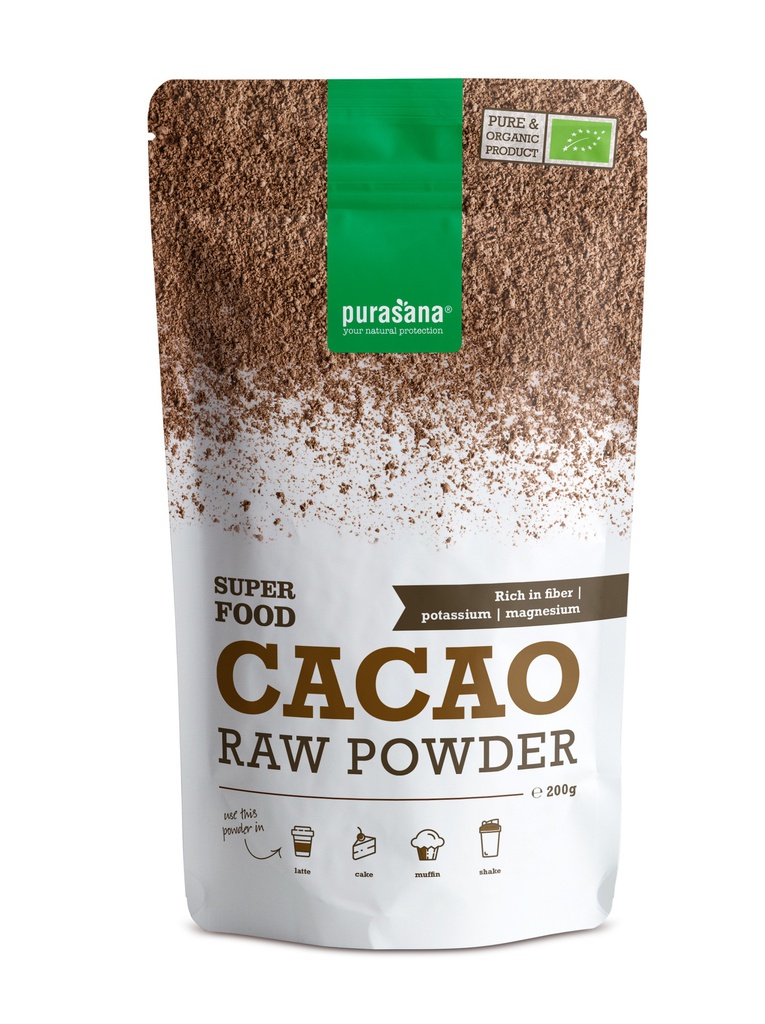 Purasana
1
Cocoa powder - organic
---
Manufacturer : Purasana
Content: 200.0
G
Reference: PU004
---
Win 69 beez by buying this product
Purasana Cocoa powder is made of raw cocoa and dried at low temperature (maximum 40 °C, raw quality) to preserve its healthy elements, ground to a mild chocolaty cocoa powder with very interesting health properties. fat-reduced, without added sugar.
Thanks to its high fiber content (40% for cadaopowder) cocoa can limit constipation by stimulating intestinal transit and its polyphenols help fortify the intestinal mucosa, where the most important part (80 percent) of our immune system is located.
Cocoa is also one of the richest food sources (about 10% for cocoa powder) of flavonoids, antioxidants which play a significant role in the prevention of certain diseases such as cancer and help fight against premature cellaging. The antioxidant capacity of cocoa would thus be 2-3 times higher than that of green tea and wine. As flavonoids limit the occurrence of bad cholesterol (LDL), dilate blood vessels, improve coagulation, they are also beneficial for the functioning of the arteries, blood pressure and blood circulation, thus reducing the risk of cardiovascular diseases.
Cocoa is also an excellent source of magnesium and thus enables to fight against fatigue, stress and anxiety. As it also contains tryptophans (amino acids), which are producers and transmitters of serotonin in the body, and that the "happiness hormone" serotonin plays an essential role in mood by providing a feeling of appeasement, comfort, satisfaction and well-being, cocoa has in addition a greatly appreciated antidepressant effect.
However, cocoa has to be consumed with moderation because of its quite important energy supply and exciting properties due to its caffeine content (though less for cocoa beans (Theobroma cocoa), 0.1 to 0.4% than for Arabica coffee beans (Coffea arabica), 1.1%, or Robusta coffee beans (Coffea canephora), 2.2%, or tea leaves (Camellia sinensis) 2.5 to 5%).
N.B. Also very rich in fibres: dried figs , prunes , psyllium , Golden linseed - organic , chiaseeds , coconut meal , tigernut flour , cocoa beans or cocoa powder ,...
Latin name
Theobroma cacao
Ingredients
Fatreduced Cocoa beans meal* * from certified organic agriculture
Origin
Peru
Characteristics
Nutrional values per 100g
energy: 1350,8kJ / 324,8kcal
fat: 11g of which saturates: 6,8g, mono-unsaturates: 3,8g, polyunsaturates: 0,4g
carbohydrates: 13,4g of which sugars: 1g
fibre: 31,7g
protein: 27,2g
salt: 0.0825g
potassium : 3350 mg
calcium : 175 mg
phosphor : 715 mg
magnesium : 470 mg
iron: 28 mg
zinc: 8,1 mg
copper: 4,1 mg
theobromin: 2,4 g
Precautions for use
Keep cool and dry.
This is a preview of the recently viewed products by the user.
Once the user has seen at least one product this snippet will be visible.
Recently viewed Products