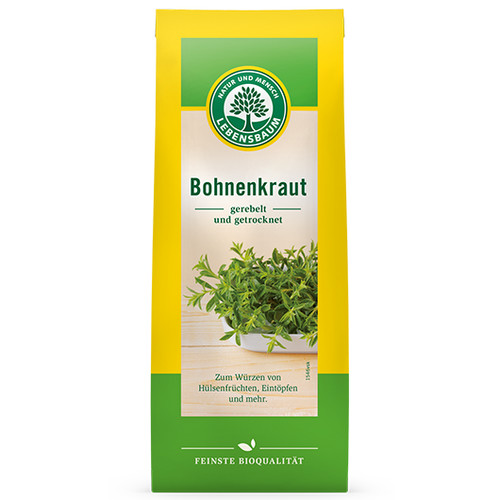 Savory - organic
1
---
Contenu: 25.0
G
Référence: LE008
---
Win 23 beez by buying this product
The taste of savory is very aromatic with a peppery edge, something between thyme and mint and it peps up culinary preparations. Its antioxidants supply makes it a healthy seasoning and its presence supports digestion and fights bloating and gas. But it is also a medicinal plant with many other applications.
Savory is particularly appreciated in leguminous dishes whose digestibility it improves, but also refines and improves successfully lots of other culinary preparations (vegetables, meat, fish, soup, sauces, desserts ...) and actually the well-known red label spice mixture "Herbes de Provence" has savory as one of its principal ingredients. Culinary herbs are usual consumed in small quantities as seasonings, but adding them regularly and significantly allows to contribute, and not insignificantly, to the maintenance of a good health.
Savory is a plant rich in essential oils, of which the phenols carvacrol and thymol and it is one of the most powerful phenol plants in its category. Little research concerning it has been carried out but antifungal, antibacterial, antiviral, anti-inflammatory, analgesic, carminative, antispasmodic, anthelmintic, expectorant and antidiarrheal effects were observed and savory seems to be able not only to eliminate bacteria, viruses, fungi and parasites of all kinds but also to create unfavorable conditions for their multiplication. It is a tonic and immunostimulant plante whose action on the adrenal glands helps control stress, immunity and libido.
Latin name
Satureia
Properties
- antimycotic, antifungal, antibacterial, antiviral, antiparasitic, anti-infectiv
- antidiarrheic
- anti-inflammatory, pain reliever
- antispasmodic
- tonic, immunostimulating
- expectorant
- digestive, carminativ, deworming (anthelmintic, vermfuge)
Traditional use
- flatulences, intestinal fermentation, bloating, difficult digestion
- stomach pain nervous, intestinal spasms
- intestinal parasites, diarrhea
- flu, colds, bronchitis, asthma
- cystitis
- insect bites and small wounds (external use)
- mouth ulcers (gargling with infusion)
Recommendations for use
In the kitchen:
- thanks to its slightly peppery flavour savory can replace the sometimes poorly tolerated pepper.
- savory is a must for bean dishes but is also excellent for lots of other preparations: sauces, vegetables, meat, fish, grilled food, mashed potatoes (custom in Quebec) and even desserts, and as an aid to digestion to avoid bloating and gas.
As infusion: a pinch per cup of boiling water, let infuse for 10 minutes, 2-4 cups per day.
This is a preview of the recently viewed products by the user.
Once the user has seen at least one product this snippet will be visible.
Recently viewed Products