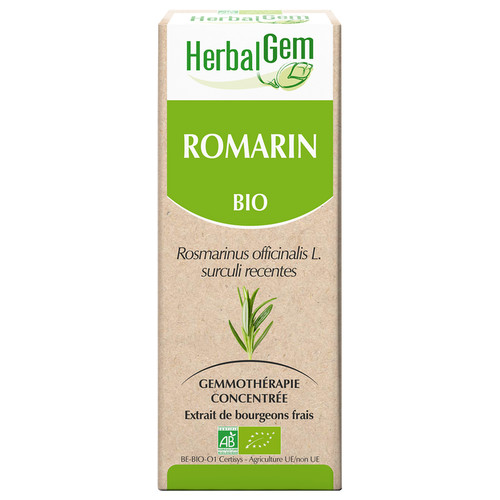 Herbalgem
1
Rosemary bud extract - organic
---
Fabriquant: Herbalgem
Contenu: 50.0
ML
Référence: HE057
---
Win 236 beez by buying this product
It is at the blood and hepatic level that rosemary has its main activity.
Great hepatic drainer and hepatoprotectiv remedy, rosemary works in hepatic insufficiencies, vesicular lithiases and biliary dyskinesias. It is both cholagogue and choleretic. The glycerine macerate of young shoots of rosemary is a general detoxicant of the body, it lowers triglycerides, urea, uric acid, cholesterol and restores the mineral and ionic balance. At the blood level, it normalises the sedimentation rate, traps free radicals (anti-oxidant) and increases red blood cells. It is recommended to stimulate the circulation of the extremities (cold hands and feet) and fights against atherosclerosis.
At urogenital level, rosemary - of a Yang nature - is a tonic working in adrenal insufficiency and functional sexual abnormalities (frigidity, impotence). It fights against gonadal senescence, congestion of the prostate and dysmenorrhea.
The above information is a translation of the
FEH
with its authorisation.
Latin name
Rosmarinus officinalis surc. rec. gemmae
Ingredients
Rosemary* young leaves shoots, Alcohol* (35%), Water, Vegetable Glycerine * ingredients from certified organic agriculture
Production
The glycerine macerate of rosemary is made with young leafy non-woody shoots. They are always non-floral shoots.
Characteristics
Rosemary is well known in herbal medicine and is used in several galenical forms: mother tincture, essential oil, herbal tea, fluid extract, ... The works of Fleurentin, Pelt and Alii show that the young shoots in the form of glycerine macerate have a much higher hepatoprotective activity (63%) than the whole plant (6%). It is the same for the biliary flow, the measurement of which shows a choleretic activity 2 times and half more important for the young shoot compared to the whole plant.
Glycerine macerate from rosemary also has a free radical scavenging activity greater than that of the whole plant. Presumably - but it must be confirmed experimentally - other glycerine macerates also have such antioxidant properties, including those from blackcurrant and poplar buds.
The traditional indications of Rosmarinus officinalis have been confirmed in vivo in rats with a superiority of action of young shoots compared to the whole plant.
Traditional use
intestinal colic (5-15 drops/day)
general detoxification (5-15 drops/day)
liver (5-15 drops/day)
cold extremities (5-15 drops/day)
frigidity (5-15 drops/day)
Recommendations for use
Normally your therapist will give you the dosage corresponding to your precise problem.
Standard use and dosages for adults):
Take the drops away from (1/2h before) meals, 2 to 3 times per day, pure or diluted in source water or honey. For an optimum result, put them directly on the tongue and wait for a few seconds before swallowing.
In a general way, in acute phase, take from 2 to 5 drops 3 to 7 times per day. And that during one to maximum three days. If the acute phase is not calmed you probably need another bud.
For a one-time disease which is not in acute phase, take 5 to 15 drops per day until the symptoms disappear and during maximum 3 weeks. It might be advisable to start with 5 drops a day and gradually increase the dosage (1 drop per day) if necessary up to 15 - 20 drops. After having obtained the desired result, keep the same number of drops until the end of the cure. If necessary, after 3 weeks take and a week stopping, you can repeat the treatment during a new phase of three weeks. If such a long treatment does not have the expected result(s) you should better change of bud or remedy.
For a ground treatment (preventive and curative), take 5 to 15 drops per day for 3 weeks in a row followed by a week off and this three times. Then one month off before returning to the same cycle, if necessary.
HerbalGem/GemmoBase products are concentrated and 50 (15) ml allow for a 70 (21) days cure based on 10 drops per day.
Precautions for use
Keep away from children.
No specific contra-indication
The pregnant lady will take care not to use buds with hormonal action like raspberry, bilberry, giant redwood (or sequoia), oak.
This is a preview of the recently viewed products by the user.
Once the user has seen at least one product this snippet will be visible.
Recently viewed Products