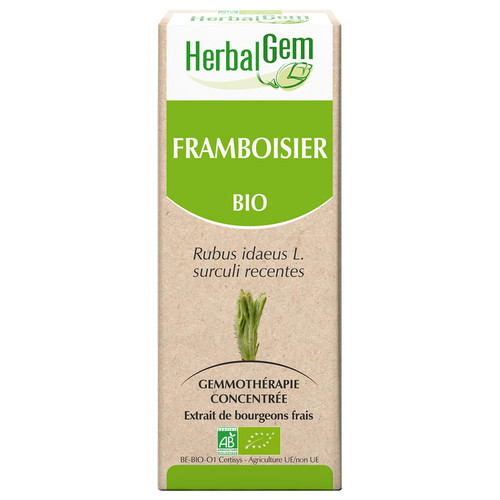 Herbalgem
1
Raspberry bud extract - organic
---
Fabriquant: Herbalgem
Contenu: 50.0
ML
Référence: HE040
---
Win 236 beez by buying this product
Raspberry helps to provide relief from menstrual problems, while harmonising hormone imbalance. It contributes to the well-being of women throughout the month.
Traditional phytotherapy uses Raspberry leaves for respiratory diseases. Their important ellagic acid content would have anti-cancer properties.
Gemmotherapy employs the young shoots , before the spreading of the first leave, principally at level of the feminine hormonal system. Its action is remarkable in feminine senescence, ovarian hyalinose, dysmenorrhoea, amenorrhoea.
Great regulator of the ovarian function of which it stimulates the secretion, as well of estrogen as of progesterone, raspberry is effective in late menstruation and feminine hypogonadism with puberty.
It is a uterine antispasmodic which will also be active in metroragy, hematuria and painful menstruation. It is advisable to take it a few days before delivery to facilitate it. It is also recommended in post-menopause or early menopause, especially in menorrhagia. By its hormonal action, raspberry helps reduce an excessive pilosity for women, property amplified by the simultaneous use of
Alchemilla vulgaris
(progesterone-like).
It would be interesting to verify if Raspberry presents oestrogen-like properties, which would make it a useful complement after menopause.
At respiratory level Raspberry intervenes in allergies and at circulatory level, in atherosclerosis. It works in anatomo-pathologic states characterized by fibro-sclerosis.
On the level of the nervous system, Raspberry exerts an antispasmodic and decontracturant action. It intervenes in neuro-vegetative imbalance, dysendocrinia and it acts in chronic inflammations like e.g. enterocolitis.
The above information is a translation of the
FEH
with its authorisation.
Latin name
Rubus Idaeus surc. rec.
Ingredients
Raspberry* young shoots, Alcohol* (35%), Water, Vegetable Glycerine * ingredients from certified organic agriculture
Properties
The HerbalGem/GemmoBase products are concentrated and 50 ml allow for a 70 days cure based on 10 drops per day. For a global view and information on gemmotherapy products from
HerbalGem
.
Traditional use
- Hot flushes (5-10 drops/day).
- Dysmenorrhea (5-15 drops/day).
- Painful menstruation (5-15 drops/day).
- Heavy periods (regulating effect) (5-15 drops/day).
To know more about all the uses of macerates, refer to the book "
Treatise on Gemmotherapy - The Therapeutic Use of Buds
".
Recommendations for use
- Take the drops 1/2h before meals, 2 to 3 times per day, pure or diluted in source water or honey. For an optimum result, put them directly on the tongue and wait for a few seconds before swallowing.
- Gradually increase the dosage (1 drop per day from 5 drops) to 15 - 20 drops. After having obtained the desired result, keep the same number of drops until the end of the cure.
- One generally recommends a 3 weeks cure, repeated 3 times, with a week of downtime between each cure.
- Correct dosage to be confirmed by your therapist.
Precautions for use
- Keep away from children.
- No specific contra-indication.
- The pregnant lady will take care not to use buds with hormonal action like raspberry, bilberry, giant redwood (or sequoia), oak.
This is a preview of the recently viewed products by the user.
Once the user has seen at least one product this snippet will be visible.
Recently viewed Products