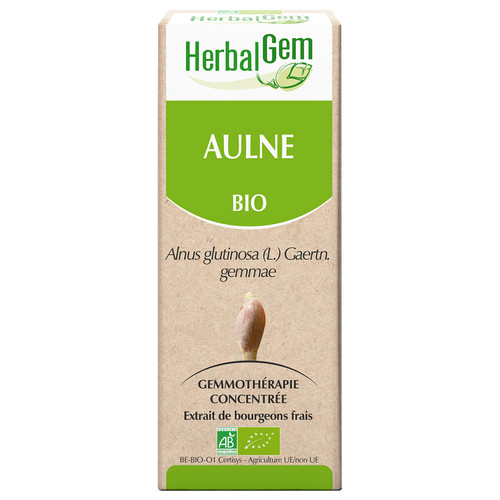 Herbalgem
1
Alder bud extract - organic
For the drainage of the organism
---
Manufacturer : Herbalgem
Content: 50.0
ML
Reference: HE030


---
Win 238 beez by buying this product
European Alder, a great circulatory remedy.
As great circulatory remedy the European Alder acts preventively against thrombosis, as well venous as retinal. It makes too thick blood more fluent by decreasing its viscosity. Its action is remarkable in all vascular spasms, especially after an infarction, in its resolution phase. The alder is a remedy for coronaritis, arteritis, erysipelas and phlebitis for which it acts as an anti-inflammatory. Because of its properties, the alder can advantageously replace the sintrom but only under medical control and with follow-up of the blood parameters.
Its remarkable action at the circulatory level makes it possible to understand better the properties of the European alder in as well acute as chronic migraines (with origin often at digestive or circulatory level) and also in fatigues and failures of cerebral circulation common among people whose brain is old or senile, and subject to lapses of memory. A cure of alder allows to increase the intellectual performances and stimulates the attention.
At respiratory level the Alder acts very efficiently on the suppurative and inflammatory phase thus avoiding or eliminating antibiotics. It is indicated in all ENT sphere and more particularly in bronchitis, sinusitis, rhinitis, tracheitis and even pleuropneumonia (we believe it may also be active in the otitis). It is the bud to take at the beginning of influenza, tracheitis, sinusitis.
At digestive level the Alder is considered as drainer of the stomach, very effective in gastritis, recurrent ulcers and various inflammatory symptoms such as colitis, the peritonitis, cholecystitis.
At osteo-articular level the Alder acts in acute articular rheuma, osteoporosis, osteitis and osteomyelitis. It is effective in subacute inflammations with diffusing tendency. It is recommended in Paget's disease.
Finally, its action also appears in chronic urticarias and those of allergic origin (probably thanks to its circulatory and respiratory tropism, skin constituting a secondary emunctory).
Thanks to its anti-inflammatory activity, the European Alder is indicated, at renal level, in cystitis and pyelitis.
The above information is a translation of the FEH with its authorisation.
Latin name
Alnus glutinosa gemmae
Ingredients
European Alder* buds, Alcohol* (35%), Water, Vegetable Glycerine* * ingredients from certified organic agriculture
Production
Based on buds harvested in the forests.
Properties
The HerbalGem/GemmoBase products are concentrated and 50 ml allow for a 70 days cure based on 10 drops per day.
Traditional use
- Antibiotic (15-20 drops/ day)
- Stomach drainer (5-10 drops / day)
- Chronic headache (5-10 drops / day)
- Influenza (5-15 drops/ day)
Recommendations for use
- Take the drops 1/2h before meals, 2 to 3 times per day, pure or diluted in source water or honey. For an optimum result, put them directly on the tongue and wait for a few seconds before swallowing.
- Gradually increase the dosage (1 drop per day from 5 drops) to 15 - 20 drops. After having obtained the desired result, keep the same number of drops until the end of the cure.
- One generally recommends a 3 weeks cure, repeated 3 times, with a week of downtime between each cure.
- Correct dosage to be confirmed by your therapist.
Precautions for use
- Keep away from children.
- No specific contra-indication.
- The pregnant lady will take care not to use buds with hormonal action like raspberry, bilberry, giant redwood (or sequoia), oak.
This is a preview of the recently viewed products by the user.
Once the user has seen at least one product this snippet will be visible.
Recently viewed Products