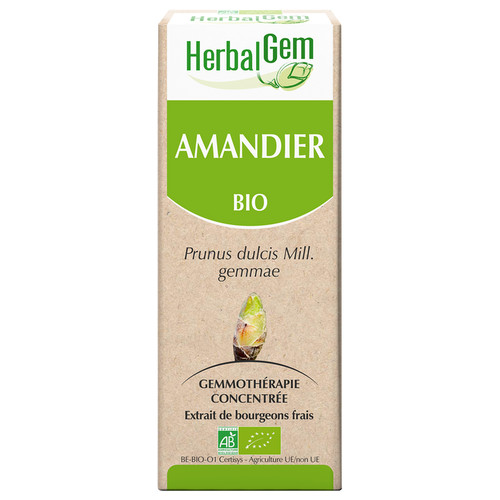 Herbalgem
1
Sweet Almond bud extract - organic
---
Fabriquant: Herbalgem
Contenu: 50.0
ML
Référence: HE029
---
Win 236 beez by buying this product
Sweet almond to combat sclerosis (principally at renal level), "thick blood" effects, triglycerides...
Sweet almond has an antisclerotic action, mainly on kidney level. It lowers the rate of uric acid, urea and acts in nephrosclerosis, lipoid nephrosis and renal amyloidosis.
The almond milk, well known in cosmetics, allows to emulsify greasy substances. This analogy is reflected in the bud which has the property to lower blood triglycerides and have a beneficial effect especially for hyperlipidemic and thrombophilic elderly.
Further sweet almond works as a useful circulatory remedy in hypercoagulation phenomena of people with "too thick" blood and in certain disorders such as indirect coronaritis, atherosclerosis, angiosclerosis, senile arteritis. It is also helpful in hypertention and cicatrization of the myocardium after myocardial infarction. It certainly acts as preventive remedy of thrombosis.
At psychic level, sweet almond is working in phobic and obsessive neurosis. It is also a thyroid stimulant.
At the hepatic level, it presents antilithiasic properties in the choledochus area.
The above information is a translation of the FEH with its authorisation.
Latin name
Prunus amygdalus gemmae
Ingredients
Sweet almond* buds, Alcohol* (35%), Water, Vegetable Glycerine* * ingredients from certified organic agriculture
Production
Based on buds harvested in the forests.
Properties
The HerbalGem/GemmoBase products are concentrated and 50 ml allow for a 70 days cure based on 10 drops per day.
Traditional use
- Lazy thyroid (hypothyroidism) (5-15 drops/day).
- Antisclerosis: circulation - angiosclerosis - coronaritis - hypertriglyceridemia - hypercoagulation - hypertension - arteritis.
- Kidney: renal amyloidosis - lipoid nephrosis - nephrosclerosis - excess urea - excess uric acid.
- Liver: choledocuslitiasis.
- Hormonal system: psyche - phobic neurosis - obsessive neurosis - thyroid stimulant.
Recommendations for use
Take the drops 1/2h before meals, 2 to 3 times per day, pure or diluted in source water or honey. For an optimum result, put them directly on the tongue and wait for a few seconds before swallowing.
Gradually increase the dosage (1 drop per day from 5 drops) to 15 - 20 drops. After having obtained the desired result, keep the same number of drops until the end of the cure.
One generally recommends a 3 weeks cure, repeated 3 times, with a week of downtime between each cure.
Correct dosage to be confirmed by your therapist.
Precautions for use
- Keep away from children.
- No specific contra-indication.
- The pregnant lady will take care not to use buds with hormonal action like raspberry, bilberry, giant redwood (or sequoia), oak.
This is a preview of the recently viewed products by the user.
Once the user has seen at least one product this snippet will be visible.
Recently viewed Products