Black elder bud extract - organic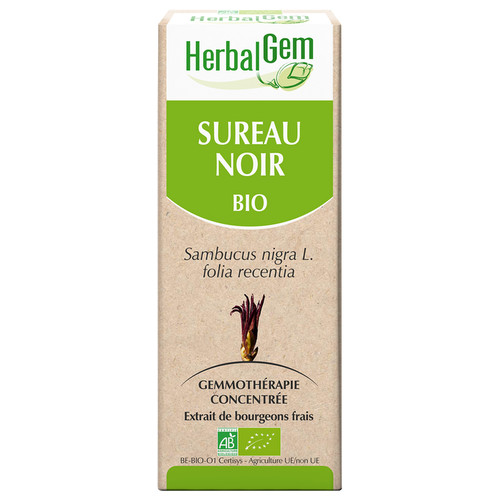 Herbalgem
Black elder bud extract - organic
Improves intestinal transit
---
Win 274 beez by buying this product
---
Internal Reference: HE070
Products Content: 50.0
Products Content Unit: ML
Barcode: 5425009093115

The black elder is a very common plant in nature. It favors the elimination of toxins accumulated in the body in cases of overweight and allows a better elimination of constipation as well as a general diuretic (kidney stones, for example). Elderberry is a precious help in the case of slow digestion by by helping to break down food more quickly. It has an anti-inflammatory action on acute muscular and articular rheumatism and has an anti-hemorrhoidal action.
Latin nameSambucus
Nigra gemmae
IngredientsBlack
elderberry
buds*
, alcohol* (35%), water, vegetable glycerin. * Ingredients from organic farming
ProductionFresh
buds.
PropertiesThe
HerbalGem products are concentrated and 50 ml represent a cure of 70 days with 10 drops per day. To know more about the range of gemmotherapy products of
HerbalGem
.
Traditional indicationsTo
know more about the products of gemmotherapy, see the book "
Gemmotherapy
".
Directions for use
: Take the drops on an empty stomach, 1/2 hour before meals, 2 to 3 times a day, pure or diluted in spring water or honey. For an optimal result, take them directly on the tongue and wait a few seconds before swallowing.
- Gradually increase the dosage (1 drop per day from 5 drops) up to 15, even 20 drops. When the desired result is obtained, keep the same number of drops until the end of the cure.
- We generally recommend a cure of at least 3 weeks, renewed 3 times, with a week's break between each cure.
- Exact dosage to be confirmed by your therapist.
Precautions for use -
To keep out of reach of the children.
- No known contraindications.
- Pregnant women should however be careful not to take gemmotherapy products with hormonal action such as raspberry, cranberry, redwood, oak.