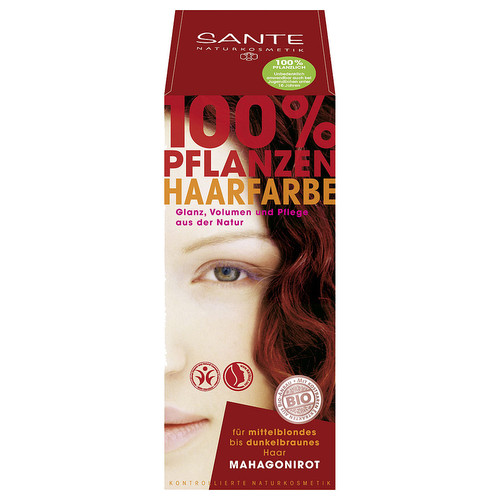 SANTE
1
Herbal Hair Colour Mahogany Red (Mahagonirot)
---
Manufacturer : SANTE
Content: 100.0
G
Reference: SN004


---
Win 60 beez by buying this product
Natural mahogany red colour for medium blonde to dark blonde hair.
This Herbal Hair Colour respects the natural pigments of your hair. It coats your hair like a protective glaze that combines with your natural hair colour to produce a unique result. The resulting colour can vary depending on your original hair colour, your hair structure and your hair care routine - but the result will surely be very natural and as shiny as silk.
It is easy to mix the herbal hair colours with one another to achieve wonderful colour variations in the spectrum of red and brown.
See the colour chart .
Ingredients
(INCI): Hydrolyzed Wheat Protein, Algin, [+/- Lawsonia Inermis (Henna)*, Cassia Auriculata (Cassia), Juglans Regia (Walnut Shell Powder), Indigofera Tinctoria (Indigo Leaves), Indigofera Argentea (Indigo Leaves), Rheum Undulatum (Rhubarb Root), Krameria Triandra (Rhatany Root), Coffea Arabica (Coffee), Curcuma Longa (Curcuma Root), Beta Vulgaris (Beet Root)] * ingredients from certified organic agriculture
Production
- These herbal colour powders contain only carefully selected natural raw materials such as finely ground henna, herbs and fruits. Nourishing wheat proteins give your hair a fascinating shine.
- SANTE Herbal Hair Colours are mixtures of wheat proteins, alginate, henna, cassia, walnut shells, ratanhia roots, indigo, coffee, beetroot and rhubarb root. The mixture and proportions in the ingredients are different for every colour.
Characteristics
- Long lasting natural shine.
- With extra volume and care.
- Purely botanical.
- Especially gentle.
- Free of peroxide, ammonia or other chemical ingredients.
- Free of synthetic colourants, fragrances or preservatives.
Herbal Hair Colors really work differently.
Chemical hair colours aggressively remove natural pigments from the interior of the hair shaft, and replace them with synthetic dyes. In this way, the initial hair colour can be completely changed. However, since natural hair pigments have an influence on overall hair structure, repeated chemical colour treatments can make hair fragile and lifeless.
100% Herbal Hair Colors penetrate only into the outer, scaly layer of the hair shaft, giving a coating of colour over this outer layer. The natural hair pigments can, depending on the colouring way, shine through this colour layer so that the initial colour has an influence on the new hair colour.
Recommendations for use
- The box contains 100g of colour powder, 1 pair of gloves, 1warming cap and 1 instruction sheet.
- The herbal hair colour is activated simply by hot water. This gives you a creamy, non-drip paste to apply to the hair.
- If you have a permanent wave in your hair, then SANTE Herbal Hair Colour should be used after perming. This will not only allow you to develop the full colour potential, but will also provide extra nourishment for the hair structure that has been attacked during the perm.
Precautions for use
- Dye a test strand first in order to forecast your personal colour result.
- Suitable for colouring grey hair. Grey hairs will stay lighter than other hair after colouring. Thus the resulting colour will be lighter the more grey hair you have.
This is a preview of the recently viewed products by the user.
Once the user has seen at least one product this snippet will be visible.
Recently viewed Products