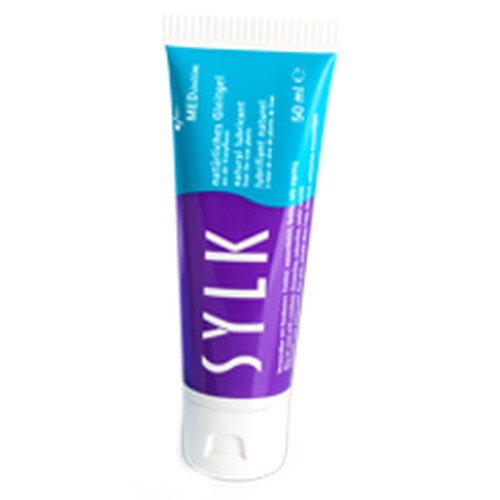 Sylk personal lubricant
1
---
Contenu: 50.0
ML
Référence: SY001
---
Win 81 beez by buying this product
This natural personal lubricant extracted from Kiwi plants not only alleviates dryness, it also helps put you quickly 'in the mood', enhances sensitivity in women and on men and increases sexual pleasure. Sylk improves your sex life naturally, easily and inexpensively.
Uniquely formulated from the ultra-slippery extract of the Kiwifruit Vine, Sylk is an excellent alternative to the more chemical lubricants on the market today. It may be used with
Ritex Ideal
, is greasless, colourless and water soluble.
Plenty of Sylk and a little imagination make sensual massage, foreplay and masturbation as well as sexual intercourse more pleasurable and more fun by enhancing sensation. Sylk can be safely used on and in all genital areas, by yourself or with your lover.
Ingredients
(INCI): Water, Kiwifruit Polysaccharide Gum, Vegetable Glycerine, Grapefruit extract, Sodium Citrate, Xanthan Gum, Citric Acid, Potassium Sorbate
Characteristics
- Non-gel fluid made from quality plant extracts.
- Immediately and highly effective - adds slip and moisture where and when you want it.
- Does not contain alcohol, hormones, animal products, gluten or soy.
- Not tested on animals.
- No chemical taste.
- pH is balanced to mimic the normal vaginal environment which is slightly acidic.
- Attractively packaged. Sylk looks more cosmetic than medical.
Properties
- Fun to use and 'real in feel'.
- Natural: no petrochemicals like Parabens or propylene glycol.
- Simulates and replenishes your body's own natural lubrication.
- Water based and ideal to use with all condoms, diaphragms and toys.
- Uses Grapefruit Seed Extract, a natural preservative (considered to be both antibacterial and antifungal), to help keep your sensitive bits healthy.
- Silky smooth, ultra-slippery and long lasting.
- Deliberately not flavoured, coloured or sweetened to help you avoid triggering allergies.
- Discreet, attractive packaging with flip-top lid so you leave one hand free for better things!.
- Portable size, perfect for travel as well as 'under the pillow'.
- Water soluble - washes out easily and will absolutely not stain your new white lounge or bed-linen.
- Not just for women, men love Sylk too!
Recommendations for use
Using clean fingers, apply a small amount - around a teaspoonful - to your (or your partner's or both) genital area. Add a few drops of water or saliva or repeat application to reactivate lubricity as sometimes body heat, ambient temperature or prolonged activity can start to dry out any water-based lubricant.
Although Sylk is not intended as a spermicide, Sylk's pH balance can affect motility, the movement of sperm and should therefore not be used if pregnancy is desired.
However, once you're confirmed pregnant, you can safely return to using Sylk because it is gentle, healthy and 100% free from petrochemicals.
Precautions for use
If you try to conceive, please don not use this lubricant at your fertil days.
This is a preview of the recently viewed products by the user.
Once the user has seen at least one product this snippet will be visible.
Recently viewed Products