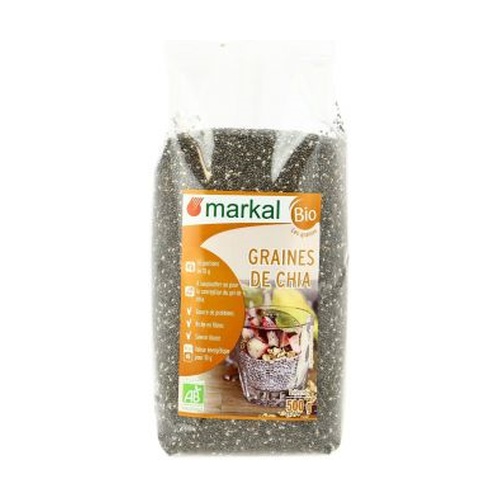 Markal
1
Chia seeds, black and white - organic
---
Fabriquant: Markal
Contenu: 500.0
G
Référence: MK202
---
Win 49 beez by buying this product
Raw food quality black Chia seeds, oleaginous with a neutral taste and rich in healthy elements.
Chia seeds are rich in mucilages, as psyllium and Golden linseed - organic , and are an excellent source of soluble and insoluble dietary fibres, beneficial for the digestive system and intestinal transit. As sesame seeds (but unlike linseeds) they may be eaten whole to enjoy all their nutrients and they are quite resistant to preservation thanks to their richness in antioxidants.
Chia seeds have a neutral taste and are very popular in the United States where they are there consumed in muesli, spreads, yoghurt with fresh fruit... They are particularly in vogue among sportsmen and active and performant people.
Chia seeds contain neither cholesterol nor gluten and have a particularly high level of Omega-3 and Omega-6 essential fatty acids with an excellent ratio of 3 to 1. They contain a lot of vitamins, antioxidants and minerals. Chia (Salvia hispanica) is a plant species belonging to the Lamiaceae family, grown originally by the Aztecs in Central America. At the time, the Aztecs already knew its properties and used its seeds daily as a food of great value, suitable for many preparations.
Originally chia seeds were used raw or heated in Mexican cooking, e.g. for salad sauces as grains or chia gel (1 volume of chia seeds swelled (anv thereby several times mixed ) in 7 volumes of water / juice), or in bread: by incorporating 5% of chia seeds in bread dough gives a bread with delicious crispy texture and remaining longer fresh. A traditional drink, the pinole, prepared as the gel with fruit or vegetables juice and 2 tablespoons of chia seeds, served as healthy energy snack with particularly positive effect on digestion and metabolism.
Latin name
salvia hispanica
Ingredients
black chia seeds* * from certified organic agriculture
Origin
Paraguay
Production
Raw quality Produkt. "Raw quality" food is treated below a maximum of 45°C, because enzymes and healthy nutriments (e.g. a large part of vitamins) are destroyed beyond this temperature.
Characteristics
Nutrional values per 100g
energy: 1856kJ / 450kcal
fat: 31,4g of which saturates: 12,2g
carbohydrates: 3,8g
fibre: 33,7g
protein: 21,2g
salt: traces
Chia seeds also provide omega-3 fatty acid, vitamins B1, B3 and E, calcium, magnesium, potassium, iron and are rich in antioxidants such as e.g. flavanols.
Properties
Chia seeds mixed with water give after a few moments a pectic gel composed of mucilaginous substances that have a beneficial effect on the digestive system. The ability of chia seeds to retain water (they bind about 10 times their weight in water) rapidly improves the quality and consistency of stools in cases of digestive disorders and they also form a sort of slime on the wall of the intestine which prevents pathogenic bacteria to cause too much damage there and promotes the recovery of the intestinal mucosa in case of intestinal infections.
As a small, so low caloric, portion chia seeds brings, because of its extensive swelling, a sensation of satiety, chia seeds are interesting in the context of a restrictive regime.
Recommendations for use
To offer maximum advantage of their vital substances should chia seeds should be eaten raw: by cooking some of the nutrients would be destroyed and unhealthy substances (eg trans fats.) formed. The daily dose recommended by nutritionists for the greatest possible health benefit is 15 grams, which corresponds to about two tablespoons.
Precautions for use
Store in a cool and dry place, in a closed packing.
Do not ingest the seeds alone without prior soaking in several times its volume of water.
Possible traces of peanuts, nuts and sesam.
This is a preview of the recently viewed products by the user.
Once the user has seen at least one product this snippet will be visible.
Recently viewed Products