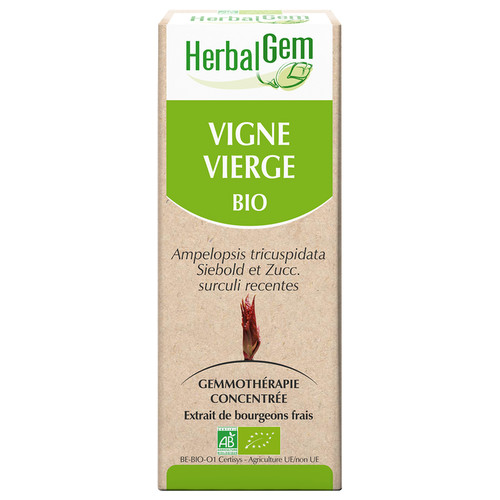 Herbalgem
1
Virginia Creeper bud extract - organic
---
Fabriquant: Herbalgem
Contenu: 15.0
ML
Référence: HE155
---
Win 108 beez by buying this product
Virginia Creeper constitutes a great remedy for deforming inflammatory arthritis (rheumatoid polyarthritis, inflammatory rheumatism), large deformations of evolutive chronic polyarthritis and especially pains and deformations of the small joints. It is particularly indicated when tendons and ligaments are involved.
Virginia Creeper acts efficiently in sclerotic retraction and is indicated in various diseases (Dupuytren, Peyronie, Bouchart nodule, Heberden nodule).
Of Yin nature, antisclerotic, it is also indicated in local fibrous indurations, especially in inflammatory after-effects, in particular post-inflammatory adhesions.
The above information is a translation of the
FEH
with its authorisation.
Latin name
Ampelopsis Veitchii surc. rec.
Ingredients
Virginia Creeper* young shoots, Alcohol* (35%), Water, Vegetable Glycerine * ingredients from certified organic agriculture
Properties
The HerbalGem/GemmoBase products are concentrated and 50 ml allow for a 70 days cure based on 10 drops per day. For a global view and information on gemmotherapy products from
HerbalGem
.
Traditional use
- osteo-articular system: inflammatory rheumatisms, evolutive chronic polyartritis, pain in small joints, deformations of small joints, deforming inflammatory arthritis , sclerotic retraction(combats), remedy for tendons and ligaments, Dupuytren disease, Bouchard nodule , Heberden nodule, palmar aponeurosis induration, post-inflammatory adhesions, antisclerotic, rheumatoid polyarthritis.
To know more about all the uses of the macerates, refer to the French book "
La Gemmothérapie
".
Recommendations for use
- Take the drops 1/2h before meals, 2 to 3 times per day, pure or diluted in source water or honey. For an optimum result, put them directly on the tongue and wait for a few seconds before swallowing.
- Gradually increase the dosage (1 drop per day from 5 drops) to 15 - 20 drops. After having obtained the desired result, keep the same number of drops until the end of the cure.
- One generally recommends a 3 weeks cure, repeated 3 times, with a week of downtime between each cure.
- Correct dosage to be confirmed by your therapist.
Precautions for use
- Keep away from children.
- No specific contra-indication.
- The pregnant lady will take care not to use buds with hormonal action like raspberry, bilberry, giant redwood (or sequoia), oak.
This is a preview of the recently viewed products by the user.
Once the user has seen at least one product this snippet will be visible.
Recently viewed Products