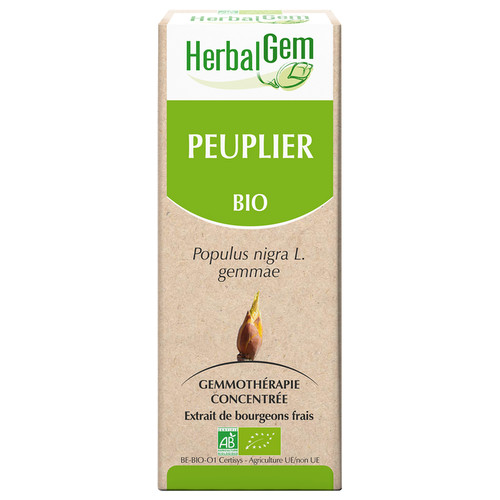 Herbalgem
1
Black Poplar bud extract - organic
---
Manufacturer : Herbalgem
Content: 15.0
ML
Reference: HE146


---
Win 113 beez by buying this product
The Black Poplar bud macerate intervenes principally at the level of the circulatory sphere, as drainer of arteries. It is also related to the heart-intestine organ in traditional Chinese medicine. As such it acts in arteritis, combating its thrombophilic tendency, particularly at the level of the lower limbs. It also supports collateral circulation because of its antispasmodic arterial action. This bud has a tonic and antisclerotic action on arteries.
Its overall hypocoagulating action explains partly its antiatheromatic properties on arteries, which makes it indicated in thrombotic arteritis. Its also used in gout states with rheumatic syndrome.
The known properties close to those of propolis are limited to an action in tracheitis and bronchitis.
Black Poplar moreover regulates the innervation of the sympathic system, cures trophic cutaneous disorders and is indicated in luteic homeopathic constitution.
This still little known bud seems to have a great future, so numerous are its potential properties.
The above information is a translation of the
FEH
with its authorisation.
Latin name
Populus Nigra gemmae
Ingredients
Black Poplar* buds, Alcohol* (35%), Water, Vegetable Glycerine * ingredients from certified organic agriculture
Production
Based on fresh buds.
Properties
The HerbalGem/GemmoBase products are concentrated and 50 ml allow for a 70 days cure based on 10 drops per day. For a global view and information on gemmotherapy products from
HerbalGem
.
Traditional use
- arteritis (5-15 drops/day)
- thrombosis (5-15 drops/day)
- cough (5-15 drops/day)
- cardiovascular system: (drainer of arteries, tonic action on the arteries, overall hypocoagulant, supports collateral circulation, organ in Chinese medicine: heart-small intestine) arteritis, thrombotic arteritis, arteritis of lower limbs, arterial antisclerotic and antispasmodic, atherosclerosis
- nervous system: regulates the sympathetic nerve, luteic diathesis
- skin system: cutaneous trophic disorders
- osteo-articular system: gout states
To know more about all the uses of macerates, refer to the book "
Treatise on Gemmotherapy - The Therapeutic Use of Buds
".
Recommendations for use
- Take the drops 1/2h before meals, 2 to 3 times per day, pure or diluted in source water or honey. For an optimum result, put them directly on the tongue and wait for a few seconds before swallowing.
- Gradually increase the dosage (1 drop per day from 5 drops) to 15 - 20 drops. After having obtained the desired result, keep the same number of drops until the end of the cure.
- One generally recommends a 3 weeks cure, repeated 3 times, with a week of downtime between each cure.
- Correct dosage to be confirmed by your therapist.
Precautions for use
- Keep away from children.
- No specific contra-indication.
- The pregnant lady will take care not to use buds with hormonal action like raspberry, bilberry, giant redwood (or sequoia), oak.
This is a preview of the recently viewed products by the user.
Once the user has seen at least one product this snippet will be visible.
Recently viewed Products