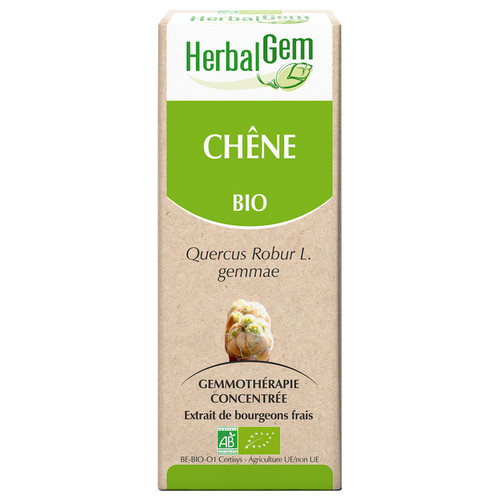 Herbalgem
1
Oak bud extract - organic
---
Fabriquant: Herbalgem
Contenu: 15.0
ML
Référence: HE138
---
Win 108 beez by buying this product
The properties of the oak bud are mainly directed towards the nervous and glandular system. It is a tonic recommended in sexual frigidity (often of psychological origin?); it stimulates the production of testosterone and , therefore, the activity of the testicles. It is thus useful in the male senescence, sexual asthenia, tiredness, overwork.
Active in the cortico-suprarenal glands, it has cortisone-like properties. Oak stimulates the pituitary gland and has a polyendocrine action. It is a tonic of the reticulo-endothelial system.
It is a general stimulant of the body recommended in convalescences and denutrition
Remedy of Yang nature , it invigorates the alveolo-dental wall and is thus indicated in parodontoses and bleeding or soft gums and it heals the gingival mucosa.
Further it equilibrates tension although it is indicated in hypotension.
At skin level oak is indicated in furunculosis and recurrent herpes.
The above information is a translation of the
FEH
with its authorisation.
Latin name
Quercus robur gemmae
Ingredients
Oak* buds, Alcohol* (35%), Water, Vegetable Glycerine * ingredients from certified organic agriculture
Production
Based on buds harvested in the forests.
Properties
The HerbalGem/GemmoBase products are concentrated and 50 ml allow for a 70 days cure based on 10 drops per day. For a global view and information on gemmotherapy products from
HerbalGem
.
Traditional use
- Convalescence (5-10 drops/day).
- Diarrhea (5-15 drops/day).
- Fatigue (5-15 drops/day).
- Frigidity (5-15 drops/day).
- Bleeding gums (gingivitis) (5-15 drops / day).
To know more about all the uses of macerates, refer to the book "
Treatise on Gemmotherapy - The Therapeutic Use of Buds
".
Recommendations for use
- Take the drops 1/2h before meals, 2 to 3 times per day, pure or diluted in source water or honey. For an optimum result, put them directly on the tongue and wait for a few seconds before swallowing.
- Gradually increase the dosage (1 drop per day from 5 drops) to 15 - 20 drops. After having obtained the desired result, keep the same number of drops until the end of the cure.
- One generally recommends a 3 weeks cure, repeated 3 times, with a week of downtime between each cure.
- Correct dosage to be confirmed by your therapist.
Precautions for use
- Keep away from children.
- No specific contra-indication.
- The pregnant lady will take care not to use buds with hormonal action like raspberry, bilberry, giant redwood (or sequoia), oak.
This is a preview of the recently viewed products by the user.
Once the user has seen at least one product this snippet will be visible.
Recently viewed Products