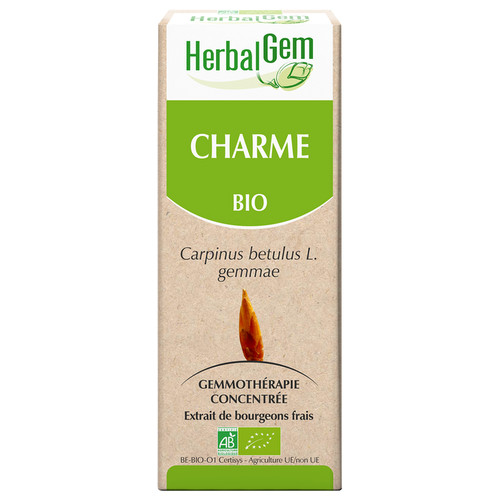 Hornbeam bud extract - organic
1
---
Contenu: 15.0
ML
Référence: HE137
---
Win 108 beez by buying this product
Hornbeam is a great remedy for platelet deficiency (thrombocytopenia). It normalizes the bleeding time, increases the number of platelets and their cytologic quality (agglutination). These thrombocytopenia may be acquired by splenectomy, by autoimmune reaction or by immuno-allergy.
Thrombopathies are mainly post-medicamentous, more particularly poisoning by anticoagulants. Hornbeam is an antihaemorrhagic useful in purpuras and haemorrhages due to anticoagulants (then associated with dogwood).
It eliminates cholesterol and works in atherosclerosis. It is recommended in hepatic insufficiencies, uremia, uricemia. At the respiratory level, it acts as an antispasmodic and presents a specific action on the sinus mucousa. Hornbeam constitutes an excellent remedy of the sinusitis, spasmodic rhinitis and chronic bronchitis.
At articular level, Hornbeam acts in post-medicamentous periarthritis nodosa and in progressive chronic polyarthritis.
The above information is a translation of the FEH with its authorisation.
Latin name
Carpinus betulus gemmae
Ingredients
Hornbeam (Carpinus betulus)* buds, Alcohol* (35%), Water, Vegetable Glycerine* * ingredients from certified organic agriculture
Production
Based on fresh buds.
Properties
The HerbalGem/GemmoBase products are concentrated and 50 ml allow for a 70 days cure based on 10 drops per day. For a global view and information on gemmotherapy products from
HerbalGem
.
Traditional use
- Hemorrhage (5-15 drops/day).
- Sinusitis (5-15 drops/day).
- Respiratory system: sinusitis - chronic bronchitis - spasmodic rhinitis - respiratory antispasmodic .
- Articular system: progressive chronic polyarthritis - periarthritis nodosa.
- Hepatic system: hepatic insufficiency.
- Circulatory system: increases the number of platelets - antihaemorrhagic - atherosclerosis - cholesterol - purpura - coagulant poisoning - thrombocytopenia - thrombopathy - uremia - uricemia.
Recommendations for use
- Take the drops 1/2h before meals, 2 to 3 times per day, pure or diluted in source water or honey. For an optimum result, put them directly on the tongue and wait for a few seconds before swallowing.
- Gradually increase the dosage (1 drop per day from 5 drops) to 15 - 20 drops. After having obtained the desired result, keep the same number of drops until the end of the cure.
- One generally recommends a 3 weeks cure, repeated 3 times, with a week of downtime between each cure.
- Correct dosage to be confirmed by your therapist.
Precautions for use
- Keep away from children.
- No specific contra-indication.
- The pregnant lady will take care not to use buds with hormonal action like raspberry, bilberry, giant redwood (or sequoia), oak.
This is a preview of the recently viewed products by the user.
Once the user has seen at least one product this snippet will be visible.
Recently viewed Products