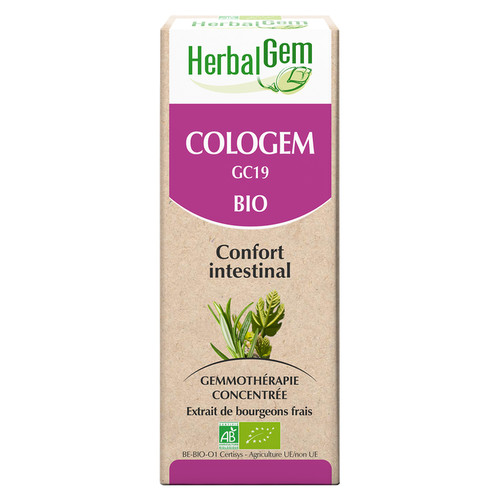 COLOGEM - GC19 - organic
1
---
Contenu: 50.0
ML
Référence: HE093
---
Win 236 beez by buying this product
COLOGEM gemmotherapy complex is designed for the intestinal comfort and helps restore the intestinal barrier by acting on the origin of the disorders.
Our intestinal flora consists of multiple bacteria whose functioning, conditioned by our brain and food, may be disturbed by many factors: stress, medications, molecules strange to life (xenobiotics), lack or excess of hygiene, nutritional imbalances...
This concentrated organic herbal remedy for intestinal problems is an association of three bud extracts ...
Silver Fir bud extract - organic , rich in quercetin (anti-candida action), has an immunity stimulating action (anti-infection, anti-inflammatory).
Rosemary bud extract - organic helps eliminate toxins from the body and positively affects the liver function, which is related to that of the intestine.
The synergy of Fig tree bud extract - organic , neuro sedative (calms, among others, colitis, intestinal gurgling) and calamus rhizome, with depurative properties, acts on the central nervous system which coordinates the digestion.
… and three other ingredients working in synergy:
The multiple actions at digestive level of Turmeric (Curcuma longa), small galanga and Enriched Propolis (Broad Spectrum) - organic promote the relief of intestinal sphere. Note that a potential toxicity sometimes referred to calamus seems to be most insignificant (http://en.wikipedia.org/wiki/Acorus_calamus).
Ingredients
Young shoots of Silver Fir*, Young leaves shoots of rosemary*, Fig tree buds*, rhizome of calamus *, turmeric*, galangal*, propolis, alcohol * (40% volume), water, vegetable glycerin. * ingredients from certified organic agriculture
Production
From fresh buds collected in the forests or from organic farming.
Recommendations for use
Normally your therapist will give you the dosage corresponding to your precise problem.
Standard use and dosages for adults):
Take the drops away from (1/2h before) meals, 2 to 3 times per day, pure or diluted in source water or honey. For an optimum result, put them directly on the tongue and wait for a few seconds before swallowing.
In a general way, in acute phase, take from 2 to 5 drops 3 to 7 times per day. And that during one to maximum three days. If the acute phase is not calmed you probably need another bud.
For a one-time disease which is not in acute phase, take 5 to 15 drops per day until the symptoms disappear and during maximum 3 weeks. It might be advisable to start with 5 drops a day and gradually increase the dosage (1 drop per day) if necessary up to 15 - 20 drops. After having obtained the desired result, keep the same number of drops until the end of the cure. If necessary, after 3 weeks take and a week stopping, you can repeat the treatment during a new phase of three weeks. If such a long treatment does not have the expected result(s) you should better change of bud or remedy.
For a ground treatment (preventive and curative), take 5 to 15 drops per day for 3 weeks in a row followed by a week off and this three times. Then one month off before returning to the same cycle, if necessary.
HerbalGem/GemmoBase products are concentrated and 50 (15) ml allow for a 70 (21) days cure based on 10 drops per day.
Precautions for use
- Keep away from children.
- No specific contra-indication.
- The pregnant lady will take care not to use buds with hormonal action like raspberry, bilberry, giant redwood (or sequoia), oak.
This is a preview of the recently viewed products by the user.
Once the user has seen at least one product this snippet will be visible.
Recently viewed Products