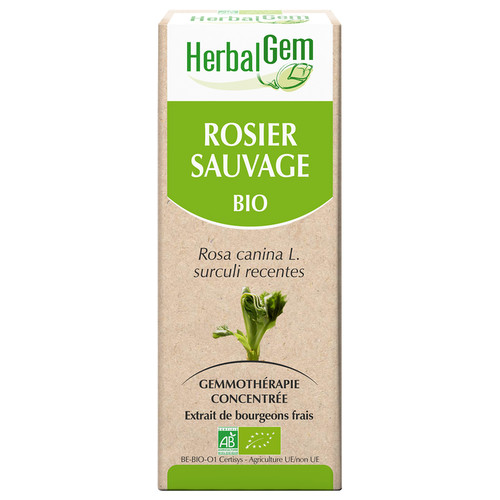 Herbalgem
1
Dog Rose bud extract - organic
---
Fabriquant: Herbalgem
Contenu: 50.0
ML
Référence: HE059
---
Win 236 beez by buying this product
Dog Rose is in gemmotherapy one of the principal remedies of the ENT, ear-nose-throat, sphere with its procession of diseases, as well chronic as acute: rhinitis, tonsillitis with repetition, otitis, tracheobronchitis, rhino-pharingitis. It is recommended for children with those diseases, particularly for people with tuberculinic and migrainous ground.
At the level of the glandular system, Dog Rose will stimulate immunity defences (antiviral) and acts in inflammations with repetition ( in particular of mucosa). It is the typical remedy for children lacking immunitary defenses and "always ill". It can be associated with Cornus sanguinea (Dogwood) in case of thyroid adenoma.
At cutaneous level, although it can act on warts, it is especially active in inflammation states. Let us note: eczema, furunculosis, herpes. It is also indicated in chronic pulmonary heart and anemia.
At osteo-articular level Dog Rose is useful in disorders of child growth because it supports a harmonious schooling. It acts in the various rheumatic syndromes, particularly in gonarthrosis, of which it improves the synovial joint and calms the inflammation.
As it intervenes in inflammatory states with repetition, it is, at digestive level, efficient in colitis.
The above information is a translation of the
FEH
with its authorisation.
Latin name
Rosa Canina surc. rec. gemmae
Ingredients
Dog Rose* young shoots, Alcohol* (35%), Water, Vegetable Glycerine * ingredients from certified organic agriculture
Properties
The HerbalGem/GemmoBase products are concentrated and 50 ml allow for a 70 days cure based on 10 drops per day. For a global view and information on gemmotherapy products from
HerbalGem
.
Traditional use
- antiviral (5-15 drops/day)
- osteoarthritis of the knee (5-15 drops/day)
- growth (stimulates) (5-15 drops/day)
- furunculosis (5-15 drops/day)
To know more about all the uses of macerates, refer to the book "
Treatise on Gemmotherapy - The Therapeutic Use of Buds
".
Recommendations for use
- Take the drops 1/2h before meals, 2 to 3 times per day, pure or diluted in source water or honey. For an optimum result, put them directly on the tongue and wait for a few seconds before swallowing.
- Gradually increase the dosage (1 drop per day from 5 drops) to 15 - 20 drops. After having obtained the desired result, keep the same number of drops until the end of the cure.
- One generally recommends a 3 weeks cure, repeated 3 times, with a week of downtime between each cure.
- Correct dosage to be confirmed by your therapist.
Precautions for use
- Keep away from children.
- No specific contra-indication.
- The pregnant lady will take care not to use buds with hormonal action like raspberry, bilberry, giant redwood (or sequoia), oak.
This is a preview of the recently viewed products by the user.
Once the user has seen at least one product this snippet will be visible.
Recently viewed Products